Spectacular in scale and sumptuously appointed, this is the home to have if you love the best of everything.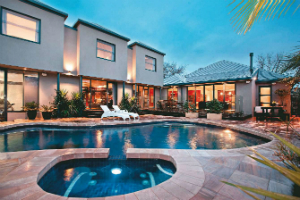 When creating a home for his own family, Gary Young of Stellar Constructions wanted a home that was state-of-the-art in appearance and its features. There's the flexibility of multi-living zones including a home theatre, five bedrooms, a study, and a magnificent outdoor living area with a pool and spa. The plan to renovate a '70s-style home into a modern functional residence that required low maintenance while seamlessly integrating the old structure with the new was a success. "We certainly have had a lot of positive remarks," says Gary.
"People who knew the house before the renovation cannot believe the transformation." Many design considerations were implemented. With the addition of three levels to the rear and the focus on bringing the outside in, the structure and function of the home changed dramatically. Another important element for Gary and his family was to have separate zones for the adults and children while the living area catered to the whole family. Gary worked closely with the design team, sharing ideas and expertise to create a modern home that boasts a warm appeal both inside and out. The no-expense-spared fitout is one of the best you'll ever find, with Italian stone feature walls, remote-control drapes in the gorgeous main bedroom suite that also features a vast walk-in wardrobe and luxurious ensuite, four-zone climate control, a dedicated children's level, and security surveillance for peace of mind.
Every room is a work of art, with mosaic-tiled bathrooms, a gourmet kitchen full of the best appliances and Blum cabinetry, Italian travertine floors and surround sound. For the exterior, the sandstone paving was sourced from a site in Western Australia and is the same stone that was used on Federation Square. There were many environmental considerations incorporated in the building of the home such as the installation of water storage, double-insulated walls and ceilings and the use of recycled materials. Stellar Constructions specialises in constructing prestigious houses as well as commercial, industrial and other domestic projects. The company was awarded the best alternative-designed house in the Bayside area in 2008 and is a member of the MBA and the Institute of Project Management. A magnificent Brighton home, with cul-de-sac serenity and luxury like you've never seen before.
Stellar Constructions, 
Unit 7, 150 Chesterville Road, Moorabbin Vic 3189.
03 9553 4155
gary@stellarconstructions.com.au