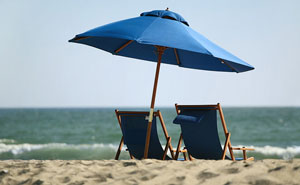 When it comes to shade solutions, the choice is only limited by your imagination
Story: Carrol Baker
Looking for ways to keep your cool? Why not transform your outdoor living space with a range of stylish, contemporary shade options? From permanent or fixed solutions like awnings, pergolas, cabanas, gazebos and shade sails to the vast array of modern umbrellas now available, finding a shade option to match your lifestyle has never been so easy.
Versatile shade umbrellas
Combine functionality and innovative design with an umbrella, a practical, portable and versatile choice for relaxing by the pool or alfresco entertaining. Choose a well-constructed umbrella in a durable weatherproof fabric if you want it to stand the test of time. Canvas fabrics are popular as are patented UV- and water-resistant fabrics like Sunbrella. For greater longevity choose PVC complemented by stainless-steel components, preferably those of marine-grade strength and quality
Today you have the option of umbrellas with a side or centre post. Then there are umbrellas that can rotate 360 degrees or tilt so you can adjust for the angle of the sun. Some can be opened or closed with the touch of a button; others come with retractable wheels so they can be moved around with ease.
Innovatively crafted tulip-shaped umbrellas are setting the trend in outdoor design this season. Cool and elegant, the umbrella's masts are fitted with German-engineered internal gear and drive mechanisms. The inverse of other traditional umbrella design shapes and styles, the tulip design umbrella closes upwards and above tables and furniture.
Shape up with shade sails
Versatile and sun-smart, a shade sail can transform an outdoor living area. Shade sails were first introduced to Australia 25 years ago and today offer immense flexibility of design and shape, making them an even more attractive shade option for a garden room.
You can have a single fixed sail or overlapping sails to provide shade over a larger area. To add a little design interest, place the sails at different levels.
An added feature of choosing a shade sail is they can be permanent or temporary and are an inexpensive, easy-to-install option to give you instant shade when you need it. There is a choice of shapes — square, rectangular, hexagonal or triangular — and they can be custom-made to suit any location.
A vast array of awnings
For patios, balconies and verandas, innovative new-look folding arm awnings are a sophisticated and functional shade solution. They're typically made of hard-wearing durable PVC or canvas and many have sun and wind sensor systems to allow you more control over the elements. They also feature manual or motorised options.
When deciding on your colour palette, make a unique design statement with a contrasting colour to your outdoor décor, or effortlessly blend with your exterior design. Neutral colours like champagne and sand are popular, as is contemporary charcoal. Or you could try a touch of the orient with reds or luxuriant shades of green.
Another versatile, contemporary style is the seashell awning, which has a magnetic and automatic retraction system. It folds away in high winds and has no need for poles and supports.
The choice of awning is vast: retracting, pergola, cantilevered, folding or batten. Most can be fitted with side screens for added shade, wind or rain protection. If you have a tricky site there are plenty of companies specialising in properly engineered custom-designed and made awnings.
Permanent shade options
Create a functional permanent shade structure with a freestanding gazebo or pavilion. The other option is a pergola, which is usually an open-sided structure attached to the house.
When deciding where you want your shade structure, good orientation and location are vital. Take into account the direction of cooling breezes, hot winds, seasonal characteristics and the direction of the sun.
Construction can be of timber, powder-coated steel, rendered masonry, aluminium or any combination of these. Roofing can be of Colorbond, polycarbonate sheeting, thatch, tiles or a natural shading product like Natureed. With pergolas, one of the latest looks is a curved roof, which provides a smart alternative to the traditional gable style. The smooth clean lines of the curved roof add a touch of elegance.
For a structure with a solid roof, the addition of a ceiling fan will help you to beat the heat in the warmer months. For a finishing touch, soft subtle lighting adds elegance and ambience.
Louvered roof systems are another way to go, giving you optimum control and added flexibility. The louvres open or close with the simple flick of the switch, or they can be angled according to the direction of the sun. With a louvre system you can adjust for light, shade, ventilation or rain protection.
Some are made of hard-wearing aluminium with an all-aluminium frame and high-gloss powder-coated finish. Others are of Colorbond steel and can feature internal guttering.
The Balinese-style cabana
Create a holiday feel to your outdoor living space with the latest look in Balinese shade structures. These can be of hut or pavilion style, include daybeds and seating, or be erected over a spa or poolside bar to create privacy and provide protection from the sun.
The roofs are typically made of African reed thatch, Indonesian alang alang thatch, or timber shingles. Or you can opt for tiles with bamboo weave lining. One major advantage of thatch, however, is its excellent insulating properties. Another option is UV-stabilised PVC fibre thatch, which will last you 30 years or more.
Timber decking complements the look although stone tiles or pavers can work just as well. As with any shade solution the choice is only limited by your imagination.