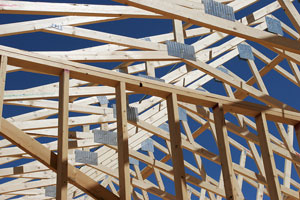 If you have a tricky, sloping site then tame it by retaining it 
Story: Dave Garrett, MAILDM
Retaining walls are primarily used to tame a slope. They can be tall or small, delicate or imposing, depending upon on their design or function. Like most elements within a garden these days, the variety of materials available for retaining walls is vast and varied.
The most important consideration is the correct design and installation of the retaining wall. The wall must have the structural ability to stop the material behind it from moving forward and down a slope due to gravity. Retaining walls can also prevent erosion, improve the drainage on a site and provide support for vertical or near-vertical grade changes.
A retaining wall can transform an apparently useless sloping site into an expansive level area significantly increasing the amenity and value of the land. By constructing a series of small retaining walls, levels can be created, giving visual variety and definition to different parts of the garden.
This brings us to the range of materials available. The choice for your retaining wall will be greatly affected by the height of the wall, the budget for materials and labour, and the general appearance desired. Retaining walls can be made of natural stone, brick, block, concrete or timber and there is a large variation of options within these categories.
Natural stone provides a timeless solution to retaining requirements and can be very versatile as it can be constructed in a dry-stacked loose form or a rigid block form with pointed joints. Combinations of materials have become very popular recently, for example, concrete blocks can be used to provide the structural requirements then the wall is faced in a thin tile of natural stone. This can provide for what appears to be a natural stone wall but at lesser cost than using solid, thick stone blocks.
Faced brick has been in hiding for a while but is enjoying a comeback due to its low-maintenance factor (that is, no painting is required). Cement-rendered blocks still remain popular especially when integrated with more modern architecture. Timber options are the choice for a lower budget as can be the use of dry-stacked concrete blocks.
Whatever material is chosen, it is very important that the correct advice is sought as to the method of construction. The most common cause of failure of retaining walls is incorrect drainage behind the wall. This is closely followed by inadequate footings and then incorrect construction of the wall itself.
Some suppliers of retaining wall products supply a construction specification, for example, the dry-stacked segmental products. For most other walls there is no substitute for professional advice especially when the wall is going to exceed 500mm in height. It is also important to consult your local council as to the requirements for size and purpose. Approval or building permits may be required. For example, retaining walls over 600mm high require approval by most councils in the Sydney area.
You don't have to have a sloping garden to make use of retaining walls, of course. You can introduce smaller retaining walls into a garden design to provide structure, define garden zones or add interest and dimension. Low retaining walls around a raised garden bed or a water feature can also double as smart casual seating.
Once your walls are constructed and are looking fantastic, the final thing you need to consider is the planting. Flowing spill-over plants can soften the appearance of higher walls and add texture and colour. Trees and shrubs with invasive roots, however, should be kept well away so all the hard work is not undone by that fig that somehow escaped from its pot.
Dave Garret is a Sydney-based landscaper and director of Art In Green.
1. By introducing a series of retaining walls and terracing the site, Outdoor Creations has created usable flat areas and provided a pleasing outlook from the house.
2. To soften the look of a retaining wall, opt for trailing plants that will spill over the top of the wall adding colour and integrating the built structure into the garden.
3. Think ahead when introducing retaining walls and steps. Built-in planters can help to turn something practical into a lush, green feature of the landscape design.
4. Timber is a less costly choice than stone and looks great in a more casual or rustic setting. Just remember any timber in contact with the ground must be treated.
5. Quarried stone blocks have been employed in this garden designed by Wayne Giebel Landscapes to shore up a sloping site and to give the garden a lovely natural look.