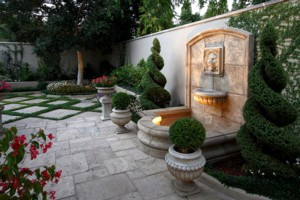 An era is ending, writes Archicentre's Robert Caulfield, as housing affordability and 'McMansions' encroach on the great Australian backyard
How times have changed. The days of enjoying the big backyard for a kick of the footy or a game of cricket are over. There simply isn't the room.
Blame housing affordability and our demands for four- and five-bedroom homes. Blame smaller subdivisions and the developers who, in an effort to give us affordable, five-bedroom homes, have run out of space for the big backyard.
Post-war housing plans used to consist of two to three bedrooms, one living area and a bathroom on a quarter-acre block. Today it's four bedrooms, a study, two bathrooms and two separate living areas (and that's just the basic).
Fences are closing in and houses are expanding to meet them. The empty space left between the back wall and the new fence is the contemporary backyard: a tiny paved patch cunningly marketed as the alfresco dining experience. Perennial sporting pursuits have moved indoors. This is one trend we don't like.
Archicentre has also seen a rise in renovation reports exploring dual occupancies (i.e. converting their backyard into an additional residence). With the surging cost of house prices, this may be an option many parents take in the future to get their children into the housing market.
The disappearing big backyard now raises issues for developers of new and existing estates, where open space and sporting facilities come at a premium.
Photography by Greg Sims.