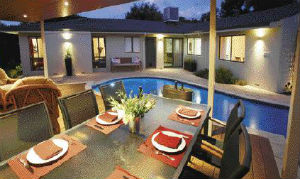 A poolside pavilion provides a comfy space for cooking, dining and chilling out
Complementing the contemporary façade of the house and offering the ultimate in family-friendly living, the open-sided pavilion that sits just a few steps away from the pool shows what can be achieved with good design.
The pavilion is spacious, providing sufficient room for a barbecue and two distinct living zones: one for dining, the other equipped with an outdoor lounge suite that's ideal for relaxed conversation.
The design of this outdoor room ensures versatility. It can be used for casual day-time entertaining or more formal dining at night.
Lighting transforms the pavilion and the surrounding areas during the evening hours. The external light fittings — complete with dimmers — are controlled by a modern LED display C-Bus switching system that can be preset to create various lighting moods.
In designing the rear garden, the aim was to visually connect interior and exterior spaces by setting up viewing portals from inside the home. One of the most striking is the view of the pool — framed by double windows and laser cut "rusted" metal feature panels — that you spy when entering the home through the front door.
The existing pool was something of a challenge during the makeover as it was the only curved object in an otherwise angular design. To minimise the pool's dominance, the deck straddles the edge of it, drawing the eye and staking its claim as the entertaining stage of the backyard.
To freshen up the area around the pool, washed aggregate paving was installed and, to form a backdrop to the entertaining area, there's a Colorbond fence with a rendered brick parapet.
To leave the maximum amount of time for pure enjoyment, the planting is low-maintenance and includes mass-planted rows of dwarf flax lily along with sedge and kangaroo paw. For screening, there's sweet viburnum and a number of advanced magnolias under-planted with spiny-headed mat-rush.
Thanks to the design expertise of Guy Mouritz and Adam Usher of Perth-based Ritz Exterior Design, the owners can now enjoy the good life all year round.
Ritz Extererior Design
Tel/Fax: (08) 9335 9238
Mobile: 0404 064 004
Email: guy@ritzexterior.com.au
Website: www.ritzexterior.com.au
Photography by Ron Tan