Simplicity and modern overtones create a striking first impression in this unique design, which is not constrained by the modest-sized lot.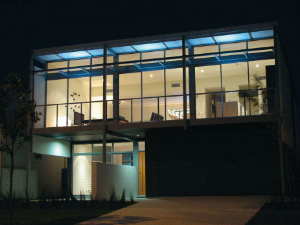 The design of this amazing residence has been carefully crafted to enhance the surrounding environment and accommodate the needs of an urban family. The creative balance between size, aesthetics and function is evident in the two-storey layout, with core living spaces situated on the upper storey to capture the outstanding lake views. Attention to detail, material and colour selections ensure the occupants enjoy a privileged luxury feel, not usually attributed to small-lot housing.
The home features a comprehensive list of rooms, with four different living zones providing a sense of seclusion, yet centralised by entertaining areas including the large in-ground pool. Externally, the home features strong geometric contours balanced by expanses of reflective glass. This modern simplistic look is reminiscent of the flat-roofed glass-andgrid- oriented 1960s architecture and is the core of the building's visual signature. Two dramatic floating external walls to each side of the home act as blinkers do on a horse, eliminating the distraction of the adjoining properties' close proximity. 
Cross-flow ventilation is maximised by the single-depth lower living area and void, which acts as a cooling tower. Relief from the harsh western sun is provided via the inclusion of large overhangs, tinted glazing and a retractable external blind system. Together, these elements ensure the home remains liveable from season to season. Internally, the extensive use of glass creates an effortless flow between the external environment and the needs of internal living.
The large central void not only performs as a cooling tower, but adds to the sense of volume and space. The void provides a seamless connection between both levels and acts as an impressive backdrop to the feature timber stairs and integrated study nook. The furnishings, fittings and colours mimic the strong geometric-contoured external elements and are balanced by minimalism, light and space. Together, the innovative uses of space, contemporary finishes and reflective features allow this stunning home to provide an important balance between form and function. The natural environment has been a pivotal point for the design process by highlighting positive attributes such as water views and minimising negative attributes such as the harsh western sun. The finished result adds weight to the saying, "Biggest isn't always best."