When outfitting your kitchen, there are many different factors to consider when selecting an oven, microwave or cooktop.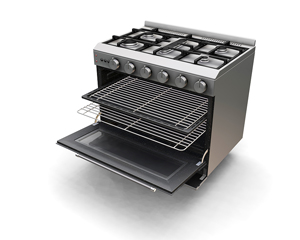 Ovens
Types:
Gas — Gas ovens use a raw flame to create heat, which means you can heat your oven faster than an electric oven (pre-heating takes around a quarter of the time) and it is easy to maintain a high heat. Gas creates a more moist heat than electricity and is therefore good for cooking meats but is not as effective if a crispy or crunchy effect is desired. Gas is cheaper to run than electricity.
Electric — Electric is still the most popular choice in ovens, with a ratio of about 10 electric ovens sold to one gas oven. Devotees of electric ovens believe that the temperature is easier to maintain than in a gas oven. Electric ovens are also more likely to be multi-functioning. Electric ovens are generally more expensive to run than their gas equivalents.
Steam — While still seen mainly in professional kitchens, steam ovens are gaining enormous popularity in the domestic market. Although substantially more expensive than gas or electric ovens, steam ovens offer users the benefit of adjustable humidity and temperature levels, which traps moisture in and therefore prevents food from drying out. Steam cooking retains more flavour, colour and nutrients, and as cooking with steam requires no oil or fat, it is healthier than other forms of cooking. Some manufacturers offer a steamer insert, which fits in a conventional oven.
Combi — As the name suggests, a combi oven is a combination of two types of oven: gas or electric combined with steam, or an electric oven combined with a microwave. A microwave combi can do anything a conventional microwave can do but also offers the ability to use the electricity and microwaves simultaneously. Commonly seen in commercial kitchens, steam combi ovens combine steam with either gas or electricity, allowing for moist and tender cooking.
Fan-forced — A fan-forced oven uses a fan to circulate the heat around the oven, thereby heating the oven faster and more effectively than in an oven without this feature. Fan-forced ovens distribute the heat evenly throughout the oven, making baking easier. Most fan-forced ovens feature low, medium or high settings for even greater versatility.
Multi-function — By far the most popular choice in ovens, multi-function ovens offer a combination of oven elements, an in-oven grill and a fan. This combination offers versatile and efficient cooking and means that placement in the oven is not critical to the success of the dish. Multi-function ovens also offer the user the ability to cook several dishes at a time.
Sound and light — Rarely seen in Australian domestic kitchens, but worth noting, are the more progressive appliances such as Whirlpool's grill, which uses 3D soundwaves, or the LG SolarDOM Light Oven, which uses a combination of halogen and electricity to cook, according to LG, up to four times faster than any conventional oven.
Cast iron — Fans of the old cast-iron ovens (such as an Aga) may be few, but they are loyal. Fuelled by gas, oil or solid fuel, cast-iron ovens are not for the faint of heart, as they take a long time to heat and offer none of the convenience of their modern counterparts.
Styles: 
Contemporary ovens are available in either freestanding or wall-mounted styles. Both styles are popular, depending on the size and style of your kitchen. Freestanding models generally combine the cooktop and oven, whereas the wall-mounted ovens are placed independently.
Sizes: 
The most common sized ovens are 600 millimetres and 900 millimetres, although Fisher & Paykel's Titan range features an oven with a width of 757 millimetres.
Design: 
Stainless steel is still the most popular choice, with black following closely behind. Leading the charge in contemporary design, Chef has introduced a range of coloured ovens designed to complement any colour scheme.

Special Features: 
Self-cleaning — Also known as pyrolytic, self-cleaning ovens heat themselves to 500 degrees Fahrenheit (260 degrees Celsius), turning any dirt or spills into ash, meaning all you have to do is wipe the oven with a damp cloth. The new breed of self-cleaning ovens also features a stain-resistant finish on the interior of the oven to stop spills from turning into burnt-on food.
Programmable — A programmable oven allows the user to set a specific time and temperature, offering convenience for busy cooks.
Microwaves
Types:
Microwave ovens are now more versatile and reliable than ever; they come in a range of styles and sizes and offer users an array of features. No longer used solely for re-heating leftovers, modern microwaves will defrost food fast and evenly, and with the new range of pre-programs available, it is possible to cook an entire meal with just the touch of a button.
Style and Design:
Microwaves are now available with a pull-down door. Breaking free from the traditional white exterior, many models are now available in a stainless-steel finish.
Special Features: 
Combi ovens feature both microwave and electricity. Models such as the Kleenmaid microwave feature a traditional microwave and a separate grill function. The Kleenmaid microwave also features a door ventilation system to prevent the build-up of steam. Another innovation in microwave cooking is sensor cooking. The Samsung Sensor microwave senses the amount of steam being produced in the oven and automatically adjusts the cooking time for perfect results.
Cooktops
Types:
Gas — In the war between gas and electric cooktops, gas comes out on top. Gas cooktops offer instant heat and precision control over the heat. On the downside, it is difficult to simmer on a gas cooktop, as it is hard to get the heat down that low.
Electricity — Whereas gas is cheaper than electric when it comes to ovens, the opposite is true for cooktops — electric is a far cheaper option than gas. However, this is where the advantage ends, as traditional electric cooktops take longer to heat than gas and also take longer to adjust the heat.
Combination — Fast becoming the most popular choice for Australian homeowners, a combination cooktop features both gas and electric elements, offering the best of both options.
Induction — Induction cooktops use electromagnetic energy that ignites when a metal pot touches the cooktop. Induction is an energy-efficient method of cooking that allows users to move rapidly from high temperatures to low. Although relatively new to the market, induction cooktops are generating a huge amount of interest and are gaining popularity, thanks to their efficiency, speed and safety features.
Design:
Cooktops come in a huge variety of styles and designs. Electric and induction cooktops are available in flush-to-benchtop styles. Smeg has just released its One-Piece Benchtop, which features fully integrated gas cooktops and sinks. These pieces are one long run of seamless stainless steel housing a five gas burner and your choice of either a single or double sink as well as additional features such as drop-in storage containers, a chopping board and knife holders.
Special Features:
Cooktops now offer special features such as wok burners or fish kettles. They are also treated in stain-resistant finishes to prevent spills from burning into the surface of the cooktop.
Tips for buying the right cooking appliance for you 
DO take stock of exactly what you cook and how often you cook to ensure you choose an appliance to suit your needs.
DO take your largest baking tray with you when purchasing your oven to ensure the size is right for your needs.
DO try before you buy. Most of the larger stores offer cooking demonstrations and trials so you can get a feel for the appliance.
DO ask around. Talk to friends, family and neighbours about their appliances. Many times this will bring to light features, problems or considerations that might not otherwise have occurred to you.
DO remember safety. Triple-glazed doors can prevent the burning of little fingers. Features such as automatic turn off and lockable knobs are also useful for safety.
DO set yourself a budget to avoid being swept away in the showroom and spending a lot more than you had intended.
DO measure your kitchen and the relevant spaces prior to your purchase and remember that you will need to leave a 50-millimetre gap between the back of the oven/cooktop and the wall.
DON'T buy an appliance based on the life you'd like to live. Buy based on the life you do live. Many home owners allow themselves to be swept away dreaming of dinner parties and elaborate meals, only to end up with an expensive appliance that doesn't suit their needs.
DON'T forget to check the seal on the oven door. It is essential that the seal is tight and that the hinges are solid. The seal is essential for retaining heat.