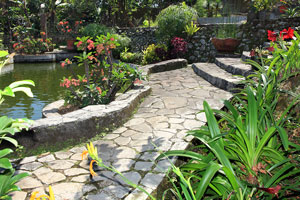 This garden make over is a testament to time spent in tropical Asian climes
Like many Australians, the people who live here are avid travellers who have spent considerable time in Asia. And like many Aussies, when the time came to make over the backyard, thoughts turned to the creation of a relaxed tropical-style garden that would evoke fond memories of lazy days spent in their favourite Asian resorts. Translated, this meant areas of sun and shade, plants in abundance and the soothing sound of water.
The old backyard was nothing more than an expanse of lawn, a couple of trees and some shrubs. Inspiration for a new design was drawn from the various artefacts within the home that had been gathered during the owners' many travels. This led to the development of an exotic Asian-influenced design with a strong focus on planting and an easy indoor-outdoor connection.
The new design provided for two ponds — one square and one rectangular. The square pond can be viewed from the front door, providing a tantalising glimpse of the treasures to come, while the rectangular pond runs the length of the lounge room and gives the impression that the adjacent deck is floating.
Black liner was used in both ponds to enhance their reflective properties, an effect that is magnified at night with underwater lighting. The ponds also have hidden pumps to gently agitate the water and create a soft bubbling sound.
There is lighting not only in the ponds but throughout the whole garden, which creates the perfect mood for night-time entertaining. The garden lighting also helps to drawn focus to the various decorative features including a terracotta urn set against a white brick wall and the Asian sculptures the owners had before work on the garden began.
The main challenge was finding materials that would work with the house colours, hence the emphasis on warm-coloured, natural materials such as the new sandstone pond coping and paving and the deep-toned merbau timber deck and feature wall.
The planting is relaxed and includes strappy-leafed spider lilies (Hymenocallis littoralis), Nepalese blue bamboo (a clumping variety), Fatsia japonica, golden penda (Xanthostemon chrysanthus), Cordyline fruticosa 'Rubra' and 'Negra', shell ginger (Alpinia zerumbet) and Philodendron 'Xanadu'.
While most of the old garden was replaced, a few elements remained, such as the two existing trees and the old hardwood fence. This was given a new lease on life by painting it a dark colour (Dulux Domino) to provide a stronger contrast to the plants.
One of the most satisfying elements of this makeover, which was deftly handled by Secret Gardens of Sydney, was the fact so much of the owners personal style — and treasured collectables — was able to be incorporated into the new garden.