Choosing a colour palette for the interior and exterior of your home is undoubtedly a difficult task. We speak to the experts for a splash of colour advice.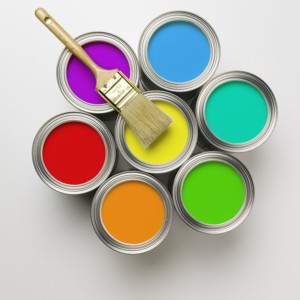 Rowena Judd at Murobond, leading Melbourne interior designer Shareen Joel at Shareen Joel Design, and principal colour designer Judith Briggs of Colour Consultants Australia, share their thoughts on the coming trends and what colours are 'in' right now.
What are the coming trends in paints? 
Rowena Judd: Grey is being used a lot. Varying strengths, both internally and externally. Trimmed with white, just off-white. Smooth textures are also very important, such as low-sheen juxtaposed with shiny. Pearlescent finishes are quite popular at the moment.
Shareen Joel: Unexpected colours used together. For example, burnt colours like burnt russet with minty colours like pistachio green and anchor, with black and white to tone it down. 
Neutral tones are used more frequently in our work, they are more classic. By using a design professional you can get the correct combinations or even the right shade — getting the correct white is not as easy as one may expect. It's all in the balance as colours are very tone sensitive.  
We prefer to see colour in furniture or accessories rather than adding to walls, although if adding painted brights, consider a splash of colour with a door or an awning as an accessory. Use it as a detail like piping is used on upholstery. It also makes changing your accessory colour easier if you want to change your look. 
Judith Briggs: Metallics are still big in paints, fabrics, wallpapers and tiles, but are more subdued than previously. Gold is becoming more prominent, but it is matt or burnished rather than shiny. Silver and platinum remain in palettes. Speaking of metallic paints, Porters have a great range of specialist metallic paints and their rust and copper paints remain very popular because the aged/distressed look remains ubiquitous and this is a quick way of achieving an aged appearance on surfaces.
A sophisticated wall surface can be achieved with Resene's range of metallic finishes. When these are applied correctly, the finish is really classy without being brash. 
There is a great variety of metallic wall and floor tiles with rust, platinum, silver and burnished gold, which make a dramatic statement. Real metal is applied to the tile so the look is very luxurious while still being very natural. The Vetro Metalli recycled glass mosaic tiles from Di Lorenzo are a stunning example of a very glamorous look.
Colour is much more important and making a strong statement both in combinations of colours as well as individual colours. Yellow is very popular. It reflects optimism and is a happy colour to offset the doom and gloom. Yellow looks fabulous with greys. Orange is also quite popular and is a sociable and happy colour as well. Purples, burgundy and berry and other jewel colours like amber and emerald green reflect our need to indulge.
Natural colours found in nature will always endure, especially with the eco-consciousness that is now very much part of our lives. These neutral colours are now more chalky with grey undertones.
What's the 'in' product right now? 
Rowena Judd: Bridge paint is a water-based micaceous iron oxide paint that offers a subtle shimmer in the paint finish. It's being used in and out as a feature product.
Shareen Joel: Murobond, Dulux (for everyday interior), Porters for exteriors.
Judith Briggs: Wallpaper would have to be it, I think. There is so much to choose from and wallpaper really makes a statement. Traditional designs have been reinterpreted with magnification of scale, graphic designs, typographical prints and even political statements. Skylines, maps, birds, figures and faces, as well as floral, botanical and geometric designs are in motifs. Metallic effects are also popular, as well as raised patterns resembling mosaic tiles, linen and skin textures like crocodile.
How do you think the economy has shifted the way we decorate our homes? 
Rowena Judd: Generally, as a result of the current economic position people are painting a lot more. They are staying in their current place of living and improving it by painting.
Shareen Joel: Instead of large-scale renovations we are seeing more updating existing interiors. Clients opting to repaint vs renovate, opting for more safe colours instead of strong statements.
Judith Briggs: Decorating is the new renovation. It's less expensive but more obvious and if done cleverly, can be changed from time to time for a new seasonal look. Clients are investing in quality key pieces and choosing accessories to create various styles that they can change seasonally. Home decorating is the new fashion, rather than personal apparel.
Painting is a very inexpensive way to give a room a new look and this can easily be changed when a different atmosphere is desired.
There is a big trend back to home entertaining, so the home becomes a showpiece. With the decline in the economy, there is a bigger tendency to 'nest' and as a result, the home as a haven to indulge oneself is much more important.
While luxury and glamour are still very popular, it is no longer flaunted like the 'bling factor' in the past. Luxury is understated and the emphasis is on design and the quality of the finish.
What is your favourite paint? 
Rowena Judd: I love lime wash. It is a very forgiving paint that hides a multitude of sins in old houses. It's very flat and has a subtle texture. Lime wash also adapts itself to new construction by providing an established look as soon as you have painted it.
Judith Briggs: I love Resene paints for several reasons, the first being that they have very low or no VOCs — the smelly, toxic vapours! They are premium quality but competitively priced to other brands.
Resene has a fabulous colour range, with a wide selection of very realistic coloured neutrals. Other paint companies' neutrals look artificial in comparison. Their bright colours are fantastic as well, very vibrant, and if you are painting a wall in a deep or bright colour, you rarely need a tinted undercoat. The usual two coats gives great coverage — I haven't come across another paint brand with the high degree of coverage of the Resene colours.
Resene has just released the Karen Walker designer colour range — it's just divine. The colours are displayed into six stories, each of seven colours. The inspiration for the colours came from The Bauhaus School of the 1920s, whose concept was to combine colours from an emotional perspective versus a technical one — to group colours in a way that tells a story. The colours are chalky, with a range of neutrals, blues, greens, pinks etc, as well as some highlight bright or deep colours and metallics. Each palette's colours work really well together in their entirety or as a combination of individually selected colours.
How do you feel home decorating has changed in recent years with the use of colours? 
Rowena Judd: Neutrals are being used a lot more. People became tired of the 'feature wall' look that was heavily publicised by homemaker TV shows. Colour, internally, is introduced by either furnishings or used boldly as a whole room colour.
Shareen Joel: Rooms are now mostly all one colour with fewer feature walls, a symptom of tacky home renovation shows. Colour has been replacing brick for exterior, but exposed brick is destined to make a comeback.
Judith Briggs: We have had neutral colour schemes for a long time, with or without a highlight colour. Painted feature walls were very popular for a long time and now these are either a wallpaper wall or the whole room is painted a 'colour' versus an off-white or neutral colour or is all wallpaper. Some rooms now have walls in several different colours to accentuate architectural features. The use and application of colours is much more sophisticated.
Other than neutral colours, the pure colours are clear and bright, a lot less dirty.
The neutral colour palette is much broader than ever. An example of this is the range of blacks and charcoals that are available — green-based, purple-based, brownish versus a jet black. Much more complex. New technologies make this possible. Overall they are quite chalky and the new types of finishes (yes, technology again) make them more tactile.
Is there a current trend you are noticing?
Shareen Joel: Washable for interior/high traffic areas and finish is matt or satin — satin exterior/Porters lime wash, which ages beautifully.
Judith Briggs: Multi-coloured colour schemes. These can be very bright combinations, including some fluoro or acid brights or more sophisticated combinations like Missoni or Pucci produce, for example, or the Karen Walker range I mentioned before, which is a more subtle palette. Using multi-colour combinations is much more exciting and more colourful than anything that has been seen for around 30 years. It's a 60s and 70s revival and sometimes it's a riot of colour! Black and white is still in vogue, but is more often now part of the colour range rather than the colour scheme on its own. We're seeing multi-coloured products as well as multi-coloured rooms. 
This new style is much more challenging from a decorating point of view, but a lot more exciting. More colours mean that the atmosphere in a room can be more obvious, depending on the most dominant colour in the scheme. The multi-coloured scheme is particularly evident with the revival and reinterpretation of folk art.
What's one trend in decorating that will never change? 
Shareen Joel: White — but it has to be the right shade!
Judith Briggs: Eco-sensibility — this will permeate our lives indefinitely, as we can't afford to squander our natural resources. New technologies will allow us to recycle things that were previously not possible. This will evolve over time and influence the colours of the end product, depending on the limitations of the technology involved.
The use of natural products in new ways, like bamboo for fabrics. Appreciation of products made with timber and other natural products will increase and these items will become collector items over time.
Considered purchases rather than conspicuous consumption will increase demand for high-quality and bespoke items that will endure.
What's one trend that will always change? 
Shareen Joel: Colour preferences and patterns also go in and out of style. Currently patterns on walls are trending out.
Judith Briggs: I think all decorating trends change and if they remain popular for long enough, they evolve and morph, influenced by factors such as social attitudes, economic factors, ecology, technology, movies etc to become a particular style which can also evolve over time. 
Some of the more recent styles in the last 50-60 years (as distinct from traditional styles like Georgian, Art Deco, etc) that have done that are Shabby Chic and Minimalism. Shabby Chic's still here but it's much more sophisticated, less cluttered and fussy, but remains nostalgic and romantic with home made elements like bone china cups and saucers, cupcakes, tea parties etc. Now it's called Romantic Nest.
Another is Minimalism — the look is not cluttered but has more soul. It's now quirky, arty, sophisticated as well as comfortable, but missing the stark, staged appearance. This has evolved to New York Loft style.
What can colour do for a room? How can it change the look and feel of a room? 
Rowena Judd: Colour is such an easy fix. It can change the mood of the room instantly and affect those in the room. Colour can change the feeling of size in a room. For example, a small room painted very dark can in fact give the illusion of greater dimension.
Shareen Joel: Colour can lighten a light room (or vice versa), change the mood or create warmth, though it depends on natural light and room orientation and most importantly the user preferences and individual requirements.
Judith Briggs: Colour is the cornerstone to design. Colour brings the design and all the elements together. Colours create the atmosphere of the space. For example, for relaxed and breezy, choose whites, pale neutrals, pastels and especially blues and greens in various shades. When a sophisticated, elegant atmosphere is desired, use deep jewel-like colours (garnet, emerald, amber, amethyst), neutrals of rich browns and greys and metallics. Colours can be chosen specifically to affect the perceived dimensions of a space. For instance, a long rectangular room could be made to appear less elongated. This is where an expert can assist.
What eco-conscious approach is your company taking to researching and developing its paints? 
Rowena Judd: Murobond has developed a natural paint, made from recyclable, renewable and petrochemical-free ingredients. We are also very conscious of the low VOC debate, so all our paints also meet these requirements.
Shareen Joel: Specifying Volatile Organic Compound (VOC) paint. It's now starting to appear with less dangerous chemicals. Durable paints are also important, minimising the frequency of repainting.
Judith Briggs: There is absolutely no need to use old-style, very toxic enamel paints any more. Good-quality water-based enamels like Resene's products are just as effective and can be applied over old solvent-based enamels. They have low or no VOCs and dry much faster.
As a designer, I specify eco-friendly products and try to educate my clients and painters so that they understand that this does not compromise the durability or quality of the end result.
Dulux have developed a powder called Envirosolutions Waste Paint Hardener. The powder can be mixed into leftover paint. The powder absorbs the paint and can then easily wrapped up and disposed of as domestic waste.
If you could encourage homeowners to do more of something when they decorate, what would it be? 
Rowena Judd: Decorate the space you live in for yourself and don't be influenced by what's 'in' at the moment. The space should reflect your personality. With that said, if you struggle with knowing what to do, call in the advice of a professional. Just be clear on what it is you want to achieve. Painting is a relatively inexpensive thing to do, so change the space you live in more often. It is amazing what a new colour in your house can do for you.
Shareen Joel: No feature walls and same-colour skirting is a must. Another thing, half strength on the ceiling to increase appearance of height of the room.
Judith Briggs: Be more adventurous. Keeping everything neutral can be so boring, like wearing the same colour every day! Don't be afraid to express yourself with colours and accessories — if these are wall colours or smaller items, they can be generally be changed inexpensively for a fresh look.
Ask for help! A designer can often save their clients money by giving expert advice so that the right choices are made in the early stages. Clients generally look only at what the designer charges them, rather than the big picture, ie, the final outcome. Designers have access to lots of products that the client doesn't, so a designer can offer more choice in a wide range of things. A designer has access to thousands of colours versus hundreds, so can fine-tune the colour selection so that the colours work perfectly together.
I think a lot of people like to have the satisfaction of doing it all themselves, but many find that it's not as easy as they might have thought. Designers have lots of experience and knowledge to know what will work and what won't. A good designer works with their clients to determine the client's style and then helps the client to create it. It's a team effort and the client is the winner.
Dare to be different. Don't be a slave to what is fashionable. You want a home with soul, so what is in it tells a story about the people who live there. It should be as individual as you are — a collection of life experiences and the things you love. That doesn't mean it has to be cluttered and full of knick-knacks, just meaningful things.