Clutter in the bathroom is a thing of the past with a range of innovative products from The Dispenser™.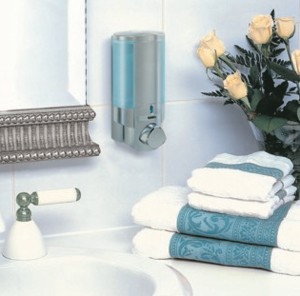 At the touch of a button, a pre-measured amount of your favourite liquid product is dispensed directly into the palm of your hand, not only reducing mess but reducing waste as well. The Dispenser™ can be installed in minutes and on any surface without tools. There are now more than 25 models to choose from in up to four chamber combinations. The stylish European-designed AVIVA™ Dispenser features three elliptic chrome or white and translucent chambers that lift off the wall bracket for easy filling. There are even handy hooks for razors and toothbrushes. Single-chamber models are perfect for the vanity, laundry and kitchen.
The WAVE™ Dispenser boasts a more contemporary appearance that's ideal for modern bathrooms and is designed to allow a second, third or fourth chamber to be added for all your shampoos, conditioners and body washes. Available in Matte Black, White, Satin Nickel and Chrome, there's an option to fit any décor. A great new stylish innovation, The Squeegee™ is the perfect solution for removing those ugly water spots and soap film from glass, mirrors, tiles and marble surfaces. Its stylish, chromeplated, zinc-cast handle and polished stainless-steel blade holder with a 10-inch genuine rubber blade has a non-slip cushion grip for ease of use. It even has an attractive chrome suction hook for easy in-shower hanging convenience.