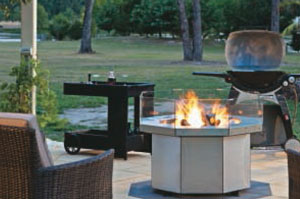 As the summer draws to a close, consider how to keep your outdoor room a welcoming space
Words: Rachel Falzon
The warmer months are coming to a close, so now is a great time to start thinking about how you're going to keep your outdoor room warm. In fact, if you haven't built your outdoor room yet but you're looking at what to include, now's an even better time to look into the enormous range of outdoor heating options on the market today.
With the environment at the fore of people's minds, it's little wonder that ethanol-fuelled fireplaces are becoming a modern trend. Ethanol is an eco-friendly, renewable fuel for creating fires. Many companies are seeing the environmental and economic value of this resource and designing heating solutions to suit. The great thing about ethanol-fuelled fires is that they can be used in small and large spaces and come in a variety of styles.
Ethanol fireplaces are great if you're looking for a portable heat source, as they can be moved around without worry of being connected to the gas mains or electricity and you can still control how much heat is being cast. This is great for those who have an outdoor entertaining area set away from the house's main energy supply.
For small areas, there are some clever space-saving heating options now available. For instance, if you have a balcony or courtyard without much room fo seating, heating and any other uses you need for the area, seating that converts into a fireplace could be just the solution you need, maximising your available space. Small ethanol tabletop fires are also available and can double as a centrepiece, while at the same time creating a lovely ambience. Other ethanol products include fire bowls, towers and fireplaces on wheels that can be relocated; there are also wall mounted versions.
When considering what type of outdoor heater you are going to buy for your outdoor room, decide whether you want something that's portable or fixed. A portable solution is great if you need to move it around and heat different areas at different times or if you have a series of rooms but only use one at a time. Fixed solutions offer the ease of having fuel at the ready — whether that is gas or electricity.
Outdoor heaters are as much about aesthetics as they are about keeping warm and there's a host of good-looking accessories on the market, too. Remember that if you have a solid-fuel-burning heat source you will need somewhere to store your supplies and something to keep your tools in. Providing ambience is another function — the look, smell, heat and colour all draw us closer — so choose something that will fit in with the majority of your entertaining or relaxation needs and create a cosy, inviting atmosphere that will encourage you and your guests outdoors.
Fire pits, also known as braziers, hot boxes and fire bowls, are great for creating moods. They are made from metals such as copper, aluminium, stainless steel and cast iron, and will burn solid fuels such as wood or briquettes. There are many fire pit designs available to suit everything from contemporary settings to rustic-themed outdoor rooms. For those short on space, a fire pit that transforms into a grill is a fabulous space-saving option; there are others that can be used as a planter if you decide you don't want to use it as an outdoor heater any more.
Chimineas add a rustic charm to outdoor settings. Also known as Mexican fireplaces, chimineas are usually made from clay or cast iron. These burn solid fuels and can also be converted into a cooking tool via a grill. Be wary of cheap clay chimineas as they may crack, or opt for a cast iron model, which will be lighter and easier to move around.
Braziers are another option and can be used for both heating and cooking. Made from painted or powder-coated tempered steel, they sit on the ground in an ash tray and can be fuelled by wood or briquettes. Braziers look great, are inexpensive to buy and run, and are long lasting.
If you're building your room from scratch, an integrated fireplace — whether wood burning, gas-fired or ethanol-fuelled — will make a fantastic feature while keeping you warm in winter. Outdoor fireplaces are very popular with those who have the space, providing a design focal point. If, however, you aren't able to integrate a fireplace into a wall, there are freestanding versions that also look great and, if you don't have anywhere to store wood, a gas fireplace could be an option.
Gas-fired patio heaters are generally a low-cost heating solution and portable, too. You can move the outdoor heater around the space, positioning it near people or away as required. Some patio heaters also come with lighting and detachable tables, making them versatile; and you can find them in an array of finishes.
Gas patio heaters can be fuelled by either LPG (propane) in cylinders or connected to a natural gas supply, if it's available. Another handy option is the tabletop gas heater. These come with a safety switch that turns the heater off should it be accidentally knocked over, or you can choose one that comes with a table clamp bracket for guaranteed stability.
Electric strip radiant heaters are seeing a rise in popularity, too. These are available in different lengths and can be attached to either the ceiling beams or walls. This low-maintenance heating method can be installed near umbrellas or shade sails. Radiant/infrared technology works similarly to the sun — it heats the same objects that the light touches, rather than heating just the air. There are portable models that can be moved around, but only so far as its power or extension lead will go.
Whatever heating solution you choose, safety should always be assessed and the relevant precautions taken. If you have children or pets, an open flame is not going to be the safest option, so consider something with a barrier such as glass between flames and curious fingers. The surfaces of each heating device will become extremely hot — flames, coal, iron and clay can become dangerous when heated to high temperatures and can seriously burn fingers. Also, make sure you have plenty of ventilation in your outdoor room and keep any combustible materials away from the heat source.
Be considerate of your neighbours, too. If your local environment is likely to experience winds in the cooler months, a fire source could fill their backyard — not to mention the inside of your home — with smoke.
With the choice of portable or fixed heating and a range fuels, styles, sizes and finishes on the market, heating can play a big or small role in your outdoor room.