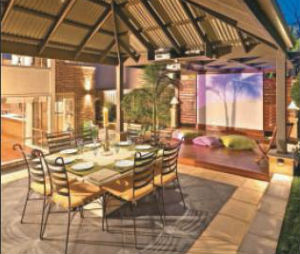 Turn your outdoor room into a multi-function space to maximise its versatility
Words: John Storch
Imagine turning your outdoor space into a personal oasis, an escape from the hectic pace of life. And imagine if that space could then be instantly transformed from a place of solitude to an entertainer's delight. An outdoor room can be all these things and more, and may just be the solution to the ultimate in outdoor living.
More and more we are being asked to specifically design an outdoor room. Often they are stand-alone projects, but we also get asked to design an outdoor room in conjunction with existing swimming pools and gardens or to design and integrate an outdoor room with a new swimming pool and garden design.
A simple outdoor room may be little more than an area or pavilion adjacent to a swimming pool to provide a discreet spot to towel off, or a stand-alone gazebo or summerhouse to provide a space to read in the shade. Or an outdoor room can be an elaborate structure and may incorporate luxurious bathroom amenities and kitchenette facilities including glass-faced wine fridges, a stainless-steel barbecue, tepanyaki plate or stove, cabinetry and sinks with glass splashbacks, a poolside wet bar and bar stools with soft furnishings including cushions, throw rugs and candles for relaxation and entertaining purposes, space heaters, air-conditioners and fans, plus flat-screen television sets, arcade games, pinball machines and sound systems together with a conversation fire pit set within paved entertaining areas surrounded with luxurious daybeds.
In my opinion, outdoor rooms should always be professionally designed. They can be a large investment and you want to get it right the first time to ensure you maximise the value add-on for your property, you get the most usability out of the space, and that the style of the outdoor room is complementary to your home. The final design will be a mix of the practical and decorative and the outdoor room must be able to be easily used as a multi-function space in order to maximise its versatility.
There are functional items to be considered, for instance, you may want to complement yoursurroundings and existing home and develop the outdoor room in the same style and materials as the residence. Then again, you may not want to stick to the same style and instead be a bit creative and do something very different. With outdoor rooms, you can have some fun. Consider a tropical-style resort haven where you can relax and escape the pressures of modern-day life. A place very different from the inside of your home — a place you'll want to go to often to get away.
Another consideration when it comes to outdoor rooms is the question of whether to utilise the most basic materials and construction methods for cost purposes. Are aesthetics more important to your project than cost, or are you after a balance of the two? Location is also very important — where do you want your outdoor room to be? Do you want to maximise sun exposure? Should the outdoor room extend to a swimming pool and incorporate a wet bar? Do you use bar windows for alfresco entertaining, partitions for changing and an outdoor shower, or open up the entire structure with no sides or close it in with concertinaed doors? Should the roof incorporate solar panels for pool and kitchen water heating? Are fans, air-conditioning and louvred vents for cooling purposes desirable? It's important to consider physical aspects such as north-facing locations, sun and shade requirements, noisy neighbours or nearby roads, prevailing winds, potential views and privacy requirements, and position your outdoor room with these aspects in mind.
The other important consideration is how the outdoor room will be used to suit your lifestyle. Keep in mind that the function of the outdoor room will change as the family grows and ages. Flexibility of use is important to ensure you get the most usability out of your outdoor room. The outdoor room must also be able to cater for small family get-togethers as well as larger gatherings for birthdays, Christmas or other holiday festivities. Ideally the outdoor room should be insulated and constructed so that in summer it can be used as an indoor/outdoor entertaining area in association with a swimming pool, tennis court or barbecue space and in winter it can be utilised effectively as a snooker room or a home entertainment room.
A development approval from the local council will most likely be needed for the construction of some outdoor rooms. Be sure to check local authority requirements and engage a professional who specialises in this area; they'll be able to help prepare a design for the outdoor room and obtain the necessary approvals needed, as well as help you with details and specifications for the construction of the whole project. An outdoor room is an important addition to your property and you want to be sure it's absolutely perfect.
Whatever your needs for an outdoor room, there is one thing for certain. Australians love entertaining outside and for many, the outdoor room is the perfect place to enjoy the great outdoors. Not only do outdoor rooms provide us with a special place to dine, entertain or relax, they also add a new dimension to our homes and blur the boundary between indoors and out.
John Storch is a Sydney-based landscape designer and founder of A Total Concept, a company specialising in landscape and swimming pool design.