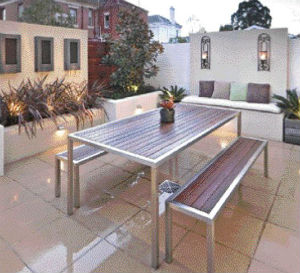 Planning a new outdoor room? Investing in professional advice will pay dividends
Story: Helen Schwab
So, you have a plan for your outdoor room. It may specify a deck, some paving, walls, a barbecue and associated bench space, a gazebo or pavilion and, of course, some plants. It may be a stand-alone construction or a covered patio. The plan should have taken into account the whole of your outdoor space including, perhaps, a swimming pool. On paper, it looks fine. Everything has been specified and costed. Your designer has excelled in designing you a space you and your family can enjoy for years to come. Now, how do you bring it into reality?
As with any building project, it will need to be co-ordinated and properly managed. Your designer may do this for a fee, or project management may be in the hands of the construction company. Make sure you know exactly who is responsible for this critical part of the process. And make sure that the person responsible has the right credentials for the job. Do they know what council permits are required? If they are not the designer, do they have a full understanding of the design intent?
You need to employ a professional for the construction of your project. A professional landscape construction company is used to working to plan and communicates with the designer where necessary to clarify any murky areas. Many designers can recommend a construction company that they use on a regular basis. And many landscape companies now both design and construct.
An outdoor room often calls on a wide range of skills in its construction. Think about it: there's paving, walling, bricklaying, timber construction, irrigation, lighting and planting. Any structure that requires a permit requires a registered builder to build it.
A professional construction company will have the building skills required for the complexity of an outdoor room and, if there's something they don't regularly do themselves, will have the ability to employ and supervise sub-contractors.
You may think that planting is a simple part of the job, but many new landscape owners have been disappointed when their plants have died in the first few months due to the lack of knowledge or experience of the person who planted them. A professional landscaper will have contacts in the nursery business and will be able to provide the best-quality stock. And they will have a sound knowledge of the techniques of planting, ensuring that the soil balance is right and that the plants are properly established.
If your designer has made any mistakes in the positioning of plants, a professional landscape constructor will pick them up and find a solution. He or she will be able to suggest an alternative that still meets the design intent.
Your outdoor room is part of your home, your living space. It will add value to your property, so it makes sense to have it constructed to the highest standard. Contact your state's landscape association for accredited, professional, highly skilled designers and contractors that can make your dream a reality. By choosing a member of an accredited landscape association you will be getting someone who can offer expert soft- and hardscaping advice, has knowledge of the latest techniques, technologies and trends, and will provide quality workmanship and professional service.
Helen Schwab is Communications Manager for the Landscape Industries Association of Victoria.
To find a landscaper
Landscape Industries Association of Victoria
www.liav.com.au
Landscape Queensland Industries Inc
www.landscapequeensland.com.au
Landscape Associations of South Australilia
www.lasa.org.au
Landscape Industries Association of Western Australilia
www.landscapewa.com.au
Landscape Industries Association of Tasmania Inc
www.liat.com.au
The Landscape Contractors' Association of NSNSW Ltd
www.lcansw.com.au
Australilian Landscape Industry Association
www.landscapingaustralia.com.au