A short ride on the Vaporetta from the main island of Venice and you're in Murano — the heart of Italy's famous glass-making region.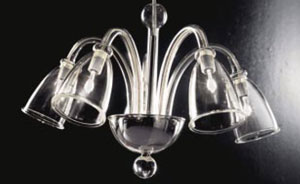 THE ISLAND OF MURANO in Venice was established as far back as 1291, when the then Venetian Republic ordered glassmakers to move their foundries to Murano because they represented a fire danger in Venice, whose buildings were mostly wooden at the time.
What made Murano's glassmakers so special? For one thing, they were the only people in Europe who knew how to make a mirror. They also developed or refined technologies such as crystalline glass, enamelled glass (smalto), glass with threads of gold (aventurine), multicoloured glass (millefiori), milk glass (lattimo), and imitation gemstones made of glass.
Their virtual monopoly on quality glass has lasted for centuries and Venetian glass is as prized today as it was in 1291. Murano is still an exporter of traditional products like mirrors and glassware, but its factories now produce modern items such as faucet handles, glass lampshades, and electric chandeliers. Murano's artisans also create stunning works of contemporary art from glass.
Visit a Murano glassworks and you'll find works that are technically fascinating regardless of whether they appeal to your personal taste. Founded in 1985, The Consorzio Promovetro di Murano is a consortium for the promotion of artistic glass from Murano. Over the years it has become an important associative body, with a list of associates that includes the two major representative groups in the field of glass, the Confartigianato di Venezia and Unindustria di Venezia. It currently represents over 70 small and large manufacturers on Murano and in Venice.
Since its foundation, Promovetro has worked hard to promote the intent of conserving, safeguarding and defending Murano's thousand-year-old art of glass, and at the same time to promote, develop and assist in properly marketing this important cultural heritage in the word.
To this end, Promovetro has fought for years to create a trademark for original Murano glass. Now this trademark, instituted into law by the Veneto Region (no 70, December 23, 1994), has finally become a reality and Promovetro has been appointed to manage and publicise it all over the world. For this reason, Promovetro may rightfully be considered one of the principal guardians of original Murano artistic glass production.