With a brief to create a minimalist holiday house for an artist, a photographer and their friends, Michael Sorensen broke away from the clinical, less-than-ambient spaces to create a warm and inviting house for all seasons.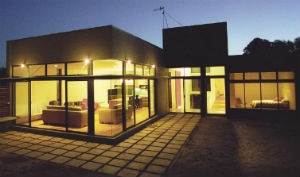 Situated on a steep and narrow site, this home consists of three staggered boxes which follow the contours down the slope, creating separate zones of use. The first box is double storey and is at the front of the block housing the garage, store and darkroom on the lower level and three bedrooms on the upper level. The second box has the living and kitchen areas on the upper level. The third box is the entry, a gallery and the connection to the upper areas of the house. This mid section represents the most vital part of the house, creating drama to the building and proposing a sense of arrival, action and surprise. Unique features include tilting the entry/gallery, which follows the natural slope of the land and adds interest and individuality to the street scape.
Substantial features also create a mood of drama, such as the heavy entry door, size of the staircases and a concrete bridge connecting this mid level to the upper level. The concrete used in the mid-section was painted with Porter's Paints White Concrete Wash and finished with three coats of translucent Floorshine wax to add warmth and depth to an otherwise cold walking surface. Victorian ash tongue-and-groove timber boards finished with Organoil hard burnishing oil make up the rest of the flooring, adding warmth to minimalist areas.
All wall spaces are painted with Dulux 'Antique White', which was chosen by Sorensen as it is "a slightly off-white, a warm white that subtly influences the ambience". Dramatic sliding panels at the top of the stairs enhance the space, painted hot pink and fire-engine red. With Miele appliances and Green's 'Oxi' tapware in the kitchen and bathroom, modern simplicity flows throughout.
The volumes in the home are not excessive but kept to a human scale and remain spacious with maximum functionality. The upper level opens towards a nature garden, providing peace as well as privacy. Although this home is a visual provocation in a conservative cul-de-sac, it takes its reference in colour, proportions and lines from surrounding nature and not its neighbouring buildings. It is bold but in context.
There is a sense of being above the street, with the main living areas set on the upper levels of the block, which also enhances the feeling of calm by being closer to the treetops above. Having been given freedom with design as well as with time, Sorensen was able to develop a strong concept which was accepted immediately by the client. "It was a delight to have an artist client who understood the house as one piece of design with its own expression and integrity," he said.
Sorensen Architects RMB
204 Rosa Brook Rd, Margaret River WA 6285
Tel: 08 9757 3581
Photography: Olivier Marill