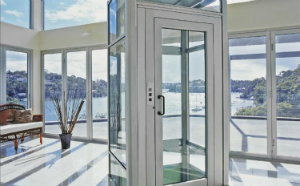 If you were to ask us when or where the fi rst elevator was conspired, you would be reading for a very long time. The modern elevator is the brainchild of many varied mechanical feats; a master combination of lift and weight technology and developments in electrical engineering driven, simply, by humankind's need to reach new heights. In 1743, for example, King Louis XV deemed it necessary to scale the fl oors beyond his private quarters in Versailles to reach his mistress, Madame de Chatearoux. Then there became a commercial need for public use of elevators.
The Otis Brothers, in particular, were monumental in this development, installing in a fi ve-storey department store on Broadway in 1857 the fi rst lift — a steam-driven machine running off the city's water supply — for mass public use. And as technology improved, so did elevator controls, weight capabilities and safety. Years later, the Otis Brothers would make historywith the fi rst automatic "signal control" elevator installed in the 1920s in New York City. Unlike every other machine of its kind, this one didn't require an attendant. Innovation in this area of transportation can be attributed to one simple fact: our vertical world. We need to travel up because we cannot build out — and in many instances, specifi ed built areas require it. With an ageing population and increasing resources for innovative design, elevator suppliers would be crazy not to have surged back into this rejuvenated market for Louis XV- esque lifts: elevators for personal use only. "For people living in existing homes, the cost of putting a lift in often far outweighs the relocation costs involved with selling and re-buying (and having to leave behind the cherished family home and neighbours," says Bernard Edwards from Australian lift company, The Lift Shop.
Bernard, along with other representatives in elevator design and supply, refer to the installation of a residential lift as "future proofi ng" for your home. Improved technologies have simply made it more economically viable to stay and upgrade than to move to a more accessible residence and settle for something less. But it is unnecessary to dwell on the cautionary and long-term value of your home elevator. The benefi ts in comfort and convenience that a residential lift will bring to you now, in the prime of your life, and to your children, parents and guests, is cause for it to be considered a must-have element in your home. Easy-Living Home Elevators told us about one particular project, where the comfort of having a home elevator to navigate a slim but sizable multi-storey home was an obvious choice. Coming home with the groceries and meeting the daunting task of climbing fl ights of stairs to reach the kitchen is far from ideal. A homing device on many modern elevators means once the garage door is opened, the rest of the system kicks into gear, directing the elevator tothe ground fl oor, leaving no time wasted and plenty of energy saved. So let's talk about these innovations in design and technology. What do they look like and how do they work?
Beauty is not only skin deep
Never think it doesn't matter what happens behind closed doors. An elevator should be treated as any other room in your home — it needs to refl ect the aesthetic and functional personality of the space surrounding it, be it a sleek foyer or an outlook across landscaped lawns. The elevator needs fl ooring — mosaic tiling perhaps? (Talk to Easy Living Home Elevators about its Domus Lift Bisazza Glass Mosaic option.) It might need wallpaper, refl ective glass, transparent glass, it might even need a sound system. Liftronic off ers a fantastic option for those just getting started in the design process of an elevator to fi t their new home or renovation. Its website provides an interactive opportunity for users to design their own lift, mixing and matching diff erent virtual fi nishes and features. It is entirely up to you whether you choose to conceal your elevator behind a swinging timber door, create a more formal stainless-steel façade, or feature the entire lift structure as an attractive glass sculpture in the centre of your home. "Commercial high-rise lifts are largely regarded as a plain box to get from one fl oor to the next," says Bernard from The Lift Shop, "but the private home range recognises the need for home owners to have a beautiful value- adding product which, as well as performing the function safely and reliably, also looks good and is complementary to the rest of the home."
Safe and sound
For many, the elevator brings to mind two of our most common and instinctive fears: a fear of heights (falling) and a fear of enclosed spaces. But your lift specialist will assure you that with modern standards and excellent emergency programming, residential lifts are perfectly fi t for purpose and safe for use. "Lifts historically are the safest form of public transport," says Roger from KONE. "The stringent rules applied to elevator mechanical and electrical design ensure an accident is very unlikely." Regardless of whether the lift you chose is an hydraulic elevator (using either oil or "slippery" water pumps to direct the lift from one fl oor to the next) or a traction elevator (a heavy- duty, faster alternative), Australian Standards (AS 1735) strictly covers safety aspects ranging from capacity and loading to wiring, speed, lighting, protection and stopping. Most elevators will also be supplied with an emergency battery "return to lowest fl oor" feature, while a team of highly skilled technicians available to assist anyone in the unlikely event of a breakdown is always on standby. The other safety consideration you might be wondering about in these times of ecologic turmoil is the footprint a home elevator might leave on the environment(and your electricity bill). The good news is that new technologies produce more environmentally friendly options every day. KONE, for example, would direct you to its MonoSpace range, which utilises a power- effi cient gearless EcoDisc drive machine. A lift of this model with a weight-bearing limit of 450kg would need a starting current of only around 20 amps — not much greater than your domestic airconditioning plant. Finally, sound-proofi ng for your elevator is another fi nancial consideration that is simply not necessary. Though taking a leaf out of our friend Louis's book and positioning the elevator at your bedroom door is probably not the most peaceful way to go about things, the noise level up to one metre from the doors would be a relatively quiet whirr of no more than 50dBA.
The kit and kaboodle
So you've been to the experts. They have worked out all the specifi cations, helped you design your dream gravity-defying people mover, and ordered all materials required to put this quality product together. What then? The realities of installation rush through your head. You envisage a mass operation: lifting off the roof, carving a shaft through thecentre of your house, watching a crane hover ominously over your precious family home as it drops the lift in from the heavens … Set your mind at ease, because most home elevators are the last item to be installed in a new home, arriving on site in kit form complete with custom-made lift, shaft and controls ready to be assembled then and there. As Easy Living describes it, there are "no hold-ups waiting for the lift to arrive, no street blockages and no crane hire costs which can run into thousands of dollars". With a pain-free installation process and the promise of a future without the fear of falling or struggling up stairs, a home elevator will certainly be the next big thing in home renovations. It's hard to deny the urge for an easier climb. At every improvement in technology, the smoother we travel, the more irresistible it will become to embrace the third dimension with only the push of a button. 
EASY LIVING HOME ELEVATORS Tel 02 8116 1500 | Website www.easy-living.com.au
KONE | Tel 1300 362 022 | Website www.kone.com.au
LIFTRONIC | Tel 1800 663 922 Website www.liftronic.com.au
THE LIFT SHOP | Tel 1800 440 714 Website www.liftshop.com.au