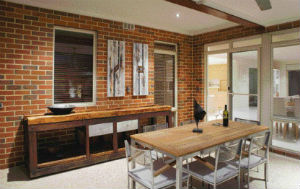 This outdoor room-style courtyard may be small on space but it is big on style
With a little ingenuity you can take the smallest space and transform it into a modern outdoor living area. Keen to do just that, the owner of this Perth property looked to Outside In designer Denise Staffa to turn her tiny garden into an inviting entertaining courtyard.
"All there was to the existing garden was red brick paving, a clothesline, an ugly gas unit and a pathway that sloped down towards the gate," says Denise.
"Inside the home, however, it was a different story. The interior was beautiful; very contemporary and uncluttered. The outside certainly did not do the home justice."
The brief from the owner, Jenny, was for a water feature with "wow factor", privacy from the neighbours, greenery, somewhere to cook and eat, some casual seating and an overall design which would have an effortless indoor-outdoor flow. Working in close collaboration with the owner, Denise came up with a clean, contemporary design.
"Jenny had already discovered the amazingly compact Electrolux barbecue which sits discreetly in one corner," says Denise. "She'd already picked out the wall tiles for the water feature.
"She also found a picture of a steel channel which she really liked. I took this idea and created a water feature that runs down the wall and through the planter box."
For privacy, Denise chose magnolia "Little Gem", its dark green and bronze leaves the perfect complement to the mondo grass and the hardy plantings of mother-in-law's tongue. For the new walls/planter boxes, Denise chose a toffee-coloured textured coating that works beautifully with the red brick exterior of the house and the predominantly green planting palette.
Denise is especially pleased with the washed aggregate poured concrete paving. "I just love the look and feel," she says. "Picking the right base and stones is definitely the secret to creating a real flow-through effect from the inside the house and it has timeless appeal."
And a final word from Denise? "This is one of the smallest spaces I've worked with and I'm thrilled with what we've been able to achieve. We were able to meet Jenny's every need without the space feeling cluttered or overdone."
Project details
Landscape designed and construction by Outside In (showroom/office) 370A Canning Highway, Como WA 6152
Phone (08) 9450 4922 Email enquiry@outsidein.net.au Website www.outsidein.net.au Photography by Ron Tan