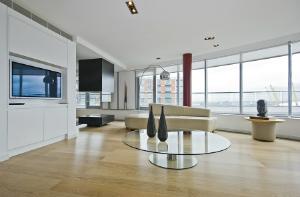 Located on the 50th floor of the Sydney landmark, Lumiere Residences, is an apartment unlike any other. 
Designed by RLD's Andrea de Cruz, the two-bedroom, two-bathroom, two-storey apartment combines a soft monochromatic white palette with a musical setting. The entry hall features a dedicated music alcove and photo gallery, creatively customised for a music lover. Black and white photographs displaying a history of orchestral performance are hung against a mirror to create the mood as you first enter the apartment.
This 129sqm home has all the creature comforts, not to mention the sophisticated style of inner-city living. World-class facilities live within the building by Frasers Property, with this apartment known as 5009, delighting and impressing everyone who enters.
To emphasise the extension of one space leading into another, colour played a significant role. A continuous loop of grey was introduced to the space, encircling the living and dining room and running continuously from floor to wall. This innovative element gives the illusion of more space in the home and also works to inspire a creative environment.
From the entry hall, this grey ceiling paint extends to the wall that leads up the stairs, while folds of fabric extend from floor to ceiling in the double height loggia and selected walls. Through the wrapping effect of materials, the spaces flow seamlessly from one end of the home to the next.
Complete with the latest appliances and finishes, the kitchen is a standout feature in the home. Within the apartment, mirrors invite the view outside in and also provide an added dimension. Theatrics play a subtle part, bouncing light around the space.
While the colour palette is predominantly met with cool shades, hints of walnut are sprinkled moderately throughout the home to add warmth.
In the master bedroom, an exquisite double drum light hangs from the ceiling. Its magnificent canopy size and its sheer bunched fabric make this feature a real show-stopper in this room. A white dresser with floor-to-ceiling mirror and low double drawer beautifully dressed with a perspex-encased 12th-century mirror also give character and dimension to this room.
The second bedroom is set up as an ideal guest room and is located on the mezzanine floor. This space overlooks the creatively placed day bed below, with a floor-to-ceiling glass window welcoming the views of the city. Innovatively designed, glass bi-folds help to distinguish the room from below, creating a private retreat. It's the use of elegant striped wallpaper on the wall and the length of mirrors that run behind the bed that gives this room a unique feel.
Large glass windows surround this luxury apartment that looks out to picturesque Sydney. The harmony not only lives in the home's interior; it is also the light and colour that comes from the surrounds that creates the perfect balance, setting this residence apart from the rest.
FRASERS PROPERTY TEL 1300 857 057 WEBSITE www.lumieresydney.com.au