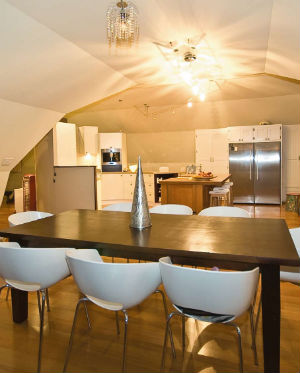 It is a labour of love owning a design business, according to interior designer Helen Glover of interior design firm HG Inside. "One of the best sayings I ever heard was 'it was certainly a marathon and not a sprint'," remarks Helen. "There are a lot of us out there and you need to be doing something fresh and exciting. I know what I like and love finding new advances in building materials for hard surface areas such as kitchens and bathrooms, new ways of solving old problems.
All my suppliers know if there is anything new on the market I want to know about it, how it can be used and the possibilities. It's so exciting being in an industry that you can never fully know … things are constantly changing so you can never have enough information. The learning process is constant, which makes it a wonderful journey each year." Helen was born in Yorkshire, England, and her love for her chosen profession began early. "I feel my whole life has been my training," says Helen. "In addition to my huge passion for design I was surrounded by it all from a young age as my dad owned and ran a painting/papering and decoration company, and my mum is a talented and very creative seamstress and florist. "My mum, dad and my nan were my mentors. They are so stylish and took me all over the country visiting old English manors and estates. We were always in homewares shops and cruising around fabulous places such as York, Harrogate and London. Being surrounded by the culture, architecture and gorgeous things grew my natural love for it all. I knew the English Dulux colour chart off by heart by the time I was in my early teens, I loved checking out my dad's wallpaper books and watching him paint using traditional techniques — rag-rolling, sponging, using gold leaf, plaster mouldings and turning metal doors into timber."
With this knowledge under her belt, Helen jumped in and started her business in Queensland by simply advertising in a local paper, then set up a showroom, and finally a homewares store in a different location. "I have now pulled both arms of the business together in a new location in Fortitude Valley, which is in the heart of Design Central — I love it. I am constantly working to improve my business, our service and what we can provide for our clients — or anyone." The store's retail section sells wallpapers and fabrics, and staff can organise upholstery and curtaining — all services available to "pop-in" clients. "We can manage a full project from plans with hard-surface design and full management, or simply give advice on furniture placement, colours or basic 'fluffing' to create that designed look. "We have a full team of tradesmen, our own plumbers, electricians, cabinetmakers, upholsterers, furniture manufacturers and a huge resource library. We like to be challenged by saying there is nothing we can't do or organise. If we can't do it directly, we know someone who can! To finish it off, we have a gorgeous retail store of gifts and homewares with something for everyone," she says.
Helen says inspiration for her work is all around. "I find inspiration everywhere," she says. "Everything influences me! To some degree nothing is new; we are so spoilt in the western world with so much at our fingertips. It's how the things we see can be developed and added to new trends, the mix of new and old, changing textures, and often the size or perspective can turn something from ordinary to a thing of total grandeur! I see things all the time and I think 'wow, that's beautiful' and then I interpret that into my own idea — reflecting more on the emotion it made me feel." Travelling back to England and Europe also allows Helen's design ideas to blossom. "I love the warmth and intimacy that flows through European architecture; it speaks to you and tells you about its residents. It's wonderful to feel that connection. This is what I try to bring to my clients." She is also highly influenced by those she works for. "I get so much from clients, too — who they are and how they want to live is so important," she says. "The personalities of the people I work with are always the starting point for any design. Some are subtle and others can handle a very busy, exciting space. It is important that each client gets something totally unique, while also addressing the building they have chosen as a home. Most important to me is that every client loves the finished product, that they feel heard and inspired with a result they couldn't have achieved themselves. "I want clients to enjoy the process of building or renovating. It can be so stressful and I see it as my role to guide them through all the decisions with confidence and excitement. It is impossible for people outside of our industry to know just how much is available, whether they have made the right decisions and used the right products. It is our role as designers to assist with this knowledge so they can make informed decisions and know they made the right choices.
You can spend the same amount of money but end up with a home that's so much more valuable due to how it has been put together. In today's highly frantic world, Helen believes that interior design plays a key role in having a special place to chill out. "I think people have started to want to feel more comfortable when they are relaxing at home. We are all so busy, so it's great to have a favourite chair, love your bedroom, enjoy long baths in your ideal bathroom — and each person has a different idea of what these things feel like." Helen claims her personal style is a mix of contemporary with vintage thrown in. But what direction does she expect design to take in the future? "Sumptuous luxury is certainly making a comeback, thank goodness! Glamour and layers of beautiful fabrics, pattern on pattern — fabulous grand curtaining is returning, with many curtains being the main statement in the room. Stories of fabrics following through to wallpapers is wonderful at the moment — we can really go all out! "Interior design is so similar to fashion design, anything goes now … it's a reflection of a personality. You can do whatever you like."