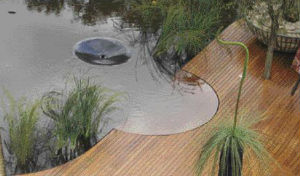 Protect and enhance the natural beauty of timber by selecting the right timber finish
Timber is an important element of the outdoor room and is an investment that is worth protecting with a quality timber finish. Many people don't realise that the key to long-lasting timber finishes is preparation. Before coating your timber, prepare it with a timber cleaner such as Intergrain Reviva. Intergrain Reviva is a unique, high-strength cleaner that restores grey, rust or tannin-stained and mould- or mildew-affected timber. Intergrain Reviva is also used to clean and prepare new timber for coating by removing the dirt, tannins, oils and other contaminants that are present.
All exposed exterior timber, from decking and fences to timber furniture and pergolas will be damaged by the sun without adequate protection. Along with moisture contact, this exposure can change the colour of the timber and damage it in the long-term. Protect your timber from the elements with finishes such as Intergrain UltraDeck, Intergrain NaturalStain or Intergrain Nature's Timber Oil, all of which contain high levels of UV absorbers for maximum timber protection.
Water-based timber finishes, such as Intergrain UltraDeck and NaturalStain, are based on water instead of solvents. Conventional timber finishes contain Volatile Organic Compounds (VOCs), which are the petroleum-based solvents that evaporate from the coating while it's drying. These compounds are the unpleasant solvent fumes that contribute to air pollution. Intergrain UltraDeck is the highest performance decking oil available and emits 98 per cent less VOCs into the atmosphere than traditional oil-based timber finishes. It will also last around three times longer than traditional solvent based decking oils, and brushes and other equipment are simply washed in water.
Timber stains are great for changing the colour of timbers, such as treated pine, and can completely transform the look of the timber. However, they can also be used to enhance the natural timber colour and are perfect for protecting decking, fences, screens and feature timber. Use a water-based stain such as Intergrain NaturalStain, which is available in all the popular timber colours, provides a natural look and doesn't hide the timber grain. Intergrain NaturalStain is the longest lasting of all the timber finishes and is a lot easier to maintain than oil-based coatings.
By protecting your timber, you can enjoy its natural beauty for longer.
Intergrain products are available Australia-wide from leading hardware and paint stores.
For more information
Intergrain Timber Finishes Free call 1800 630 285 Website www.intergrain.com.au