A pool that adds a timeless touch of luxury.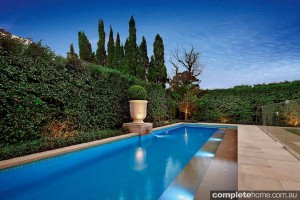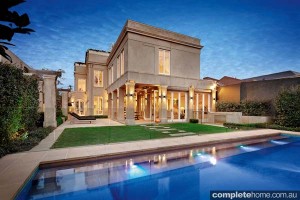 This spectacular lap pool sits among the lush greenery of an intimate backyard. Framed by a near-invisible glass fence that provides unobstructed views of the inviting water and flourishing bushes, it is a private space that is ideal for fitness and leisure.
This uncomplicated, yet timeless pool adds yet another level of class to this outdoor area. Baden Pools incorporated simple sandstone pavers which coordinate well with the classic and elegant aesthetics of the home while LED lights illuminate the steps that run along the length of the pool. These steps allow for easy access in and out for every occupant.
Sitting adjacent to the alfresco dining area, this space is ideal for entertaining or just spending time with the family.
Founded in 1977 by Bruce Badenhop, Baden Pools builds 40 to 50 pools each year, with the philosophy that no project is too big a challenge. This pool reflects how Baden Pools achieve their goals of developing designs that will complement the home and add value to the property for years to come.
Baden Pools are well respected and recognised in the pool industry, having won several prestigious awards over the years. In 2012 alone the company won gold for Best Residential Concrete Pool over $100,000 and Best Courtyard Pool at the SPASA Victoria Awards of Excellence.
At a glance
Lighting LED lights
Paving Sandstone
Garden Paul Bangay
Project Info
Baden Pools 8 Hi-Tech Place, Seaford Vic 3198
Phone 03 9783 2326
Email luke@badenpools.com.au
Website www.badenpools.com.au
Originally titled "Simple and Elegant" from Poolside magazine, Volume 42