This pool, from Baden Pools, is structural masterpiece. It's modern design and stunning standout features ensure it is different to your average backyard pool.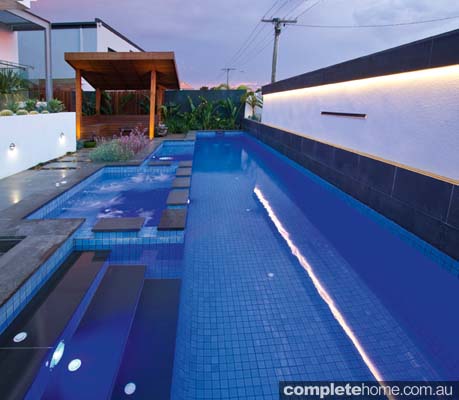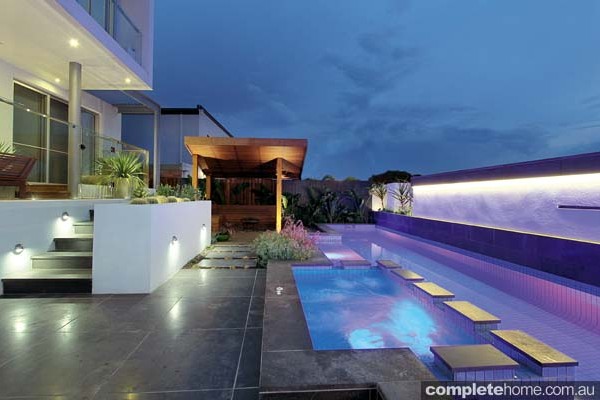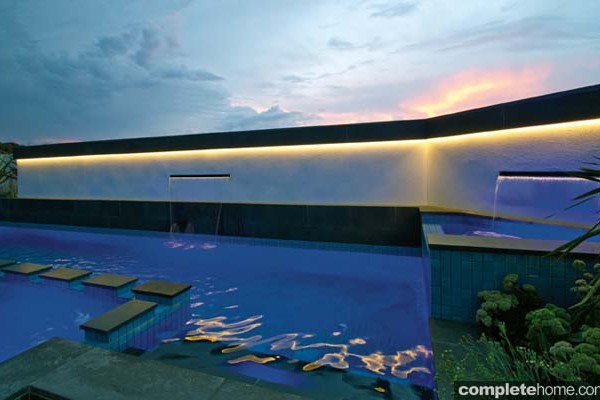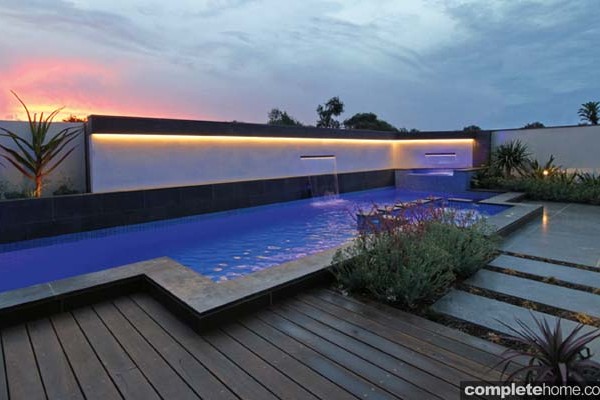 When these owners first envisioned their ideal pool, they imagined something that was different to your average backyard pool. They wanted a family friendly pool that was a standout feature of their yard and also complemented the modern style of the home and the beauty of the surrounding landscape.
Designed in conjunction with the homeowners and Arch 10, Baden Pools have delivered exactly what the homeowners were after. Sitting on the boundary of their front yard, this structural masterpiece grabs the attention of every pedestrian who strolls past.
Sized at 11m x 2m, this raised pool provides ample space for family members to swim laps and frolic during the summer months. A raised pond and two eye-catching sheer decent water features run parallel to the pool and add interest to the space. The raised nature of the pool itself makes it a standout feature while the stepping stones on the spa spillover, the Bluestone coping and the soft lighting that gently illuminates the pool by nightfall, provides and peaceful and aesthetically pleasing atmosphere that is enjoyed by the owners all year round.
This pool is fully automatic and is packed with the latest features. Baden Pools incorporated gas and solar heating to keep the temperature warm and inviting from summer through to spring as well as a Quickclean in-floor cleaning system, an Aqualink 8 system, a water witch auto filler and a thermal blanket.
Company profile
Baden Pools
8 Hi Tech Place
Seaford Vic 3198
P: 03 9783 2326
M: 0408 301 267
M: 0404 042 326
E: luke@badenpools.com.au
E: bruce@badenpools.com.au
W: www.badenpools.com.au
Builder's licence number: DBL 1346
Founded in 1977 by Bruce Badenhop, Baden Pools builds 40 to 50 pools each year, and this pool reflects their philosophy that no project is too big a challenge. Baden Pools' goal is to create designs that will complement the home and add value to the property for years to come.
Baden Pools has been acknowledged by the pool industry with many accolades over the years. In 2012 alone the company won gold for Best Residential Concrete Pool over $100,000 and Best Courtyard Pool at the SPASA Victoria Awards of Excellence. The featured pool itself also won highly commended for Best Indoor Pool for 2012.
"A Structural Masterpiece" from Poolside Showcase magazine Vol.19