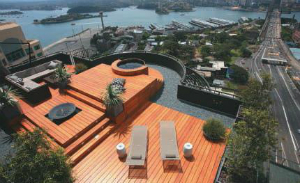 Whether you simply want more green space or a place to relax, consider a rooftop garden

Words: Catherine Stewart
Gardens and greenery contribute positively to our environment, both for us personally and as a whole community. But it's not always easy to find the space to fit in as much garden as you'd like, as blocks of land get smaller. However, if you take a fresh look at some of the rooftop spaces you do have, there may be more gardening opportunities around than you'd realised. Apartment blocks often have a neglected rooftop area that can be used, while house owners can consider carport and garage roofs, or even the house roof, too. If you're thinking about an upstairs extension or planning a new home, look at whether you can incorporate a rooftop garden into your plans.
Up on the roof, the world is at your feet. If you're lucky, your view will be uninterrupted, stretching over other rooftops across the district, or even to distant water glimpses. A garden here lets you enjoy full sun and fresh breezes away from the hustle and bustle, but it also has some other eco benefits. Insulating the roof with planting lowers temperatures throughout the rest of the building and reduces the urban heat island effect where reradiated heat drives up city temperatures. Stormwater is absorbed or slowed down, lessening its impact on urban water courses. A barren, concrete area is transformed into a wildlife habitat, a productive vegetable garden or a carpet of low-maintenance colour.
Intensive roof gardens are for people to be in and include paths, paved or decked areas and even small trees. You could even have a barbecue, lawn, a dining area or a productive vegie patch. To make an intensive roof garden, you need safe and easy access, and check if you require planning approval from your local government authority. If you live on the top floor of an apartment block, you will definitely need permission from the body corporate, so make the time to sort out all your planning issues before starting work.
Taking the weight
Weight is a primary consideration. Even a shallow, extensive greenroof can weigh around 100kg/m2 so you'll need to get an engineer to check that your roof structure can cope. For a roof garden with more built structures, you'll need to find lightweight fittings. Paving is still possible as there are special systems such as Elmich's VersiPave of small plastic adjustable supports for each paver, so there's no need for a sand or gravel base.
Decking is a good choice, too, especially clip-together decking tiles such as Ezydeck's jarrah tiles. Some of the composite decking materials are lighter than real wood and can be lower-maintenance in harsh environments as they don't need to be restained or repainted. In apartment blocks, body corporate rules might prohibit taking up existing outdoor flooring so the best you might be able to do is securely overlay what exists with decking boards.
Extensive or intensive
Roof gardens can be extensive or intensive. Extensive greenroof gardens cover an existing roof (with up to a 30-degree pitch) with a waterproof membrane, flat drainage cells covered with a geotextile and then a thin layer of growing medium for planting succulents, herbs and groundcovers, which spread over the roof. It's not for walking on but for insulation, reducing reflection and heat absorption and slowing down stormwater runoff. The garden becomes self-maintaining, often surviving on rainwater alone, with only occasional replanting needed.
Low planter beds can be built up using a variety of lightweight materials, such as autoclave aerated concrete blocks or PGH's new lightweight SuperLite bricks, which weigh 20 per cent less than regular extruded bricks. Flat-pack kits for building small raised beds are readily available in timber, recycled plastics, composite woods or powder-coated steel from about $150.
Planting and drainage
Plants can also be grown in pots. Fibreglass composite pots are great lightweight alternative to ceramics or concrete and are available in many colours and finishes, such as high-gloss glazes, terracotta, terrazzo and metallics, or you can paint them. Self-watering pots will help get plants through some of those very dry, hot, windy days and there are sub-irrigation systems available for use in planters, which can be linked up to an automatic timer with a rain sensor.
There are also companies that specialise in the creation of modular planter box systems for special locations such as roof terraces and balconies. One is H2O Designs, which constructs lightweight modular components (planters, seating, daybeds, water features), which are then secured into place with special anchorage systems.
To fill your garden beds, you'll need to use a lightweight potting mix. Special mixes include ingredients such as resin foam Fytocell, expanded clay minerals such as perlite and vermiculite, cocopeat or coir, or water-retaining crystals so they retain water and nutrients but weigh much less.

Drainage and waterproofing
Drainage and waterproofing are other major issues for roof gardens. The last thing you want is water seeping through into your ceiling or someone else's apartment. A good waterproof membrane needs to be installed by a professional so it's properly sealed, and needs to be treated with great care during any construction so it doesn't tear. 
Drainage cells under plantings, elevated paving and decking will carry excess stormwater into your gutters and downpipes.
A product that has been used in commercial rooftop applications and planter boxes and is now being used in residential settings is the Atlantis Flo-Cell™. This is a strong, lightweight product that drains only excessive water, leaving high moisture content and providing optimal growing conditions for plants.
Access is often very restricted to roof areas, through narrow stairwells or doors, so look for modular systems you can carry up as flat packs. Make sure any bagged products are sturdy and well sealed before you start dragging them through the house — or up in the lift if you live in a rooftop apartment.
Putting your safety first
Safety is paramount. Many people are killed and injured each year by falling from roofs. You might need to erect a barrier fence around the perimeter or use planter boxes to prevent access to roof edges. Having power and water on hand will make building and maintaining your rooftop garden much easier, but don't give up if you can't find a way to do that. Many plants, such as succulents, grasses and bromeliads, can survive on just rainwater or with an occasional watering from a bucket, and you can use solar-powered lights for a soft glow at night.
The microclimate on a rooftop will be more extreme than in a ground-level garden, with higher light but also very strong winds. All structures need to be securely fastened down, as lightweight materials will blow away or topple over, but be careful not to damage the waterproof membrane. Use partly open screens to deflect and filter wind, such as perforated metal panels, clipped shrubs, slatted screens of timber or aluminium, or walls with breezeblocks and open 'windows'. Avoid very fine gravels, lightweight mulches, small pots, umbrellas and plastic or aluminium furniture, which can be picked up by wind.
Making wise plant choices
The best way to give yourself a bit of shade is with a small tree or vine-covered pergola growing from a large pot if you can manage it. Kit-form free-standing metal gazebos, small Balinese-style huts or large covered daybeds can be taken up through narrow access points and reassembled on the roof or terrace.
Plants that will cope well with the high light and windy conditions will often be those that also thrive in coastal conditions. Good indicators are leaves that are small, silvery, succulent or leathery. Small native bottlebrush, grevillea, paperbark, tea-tree and a wide variety of grasses and perennials grow quickly from small plants. Larger plants in lightweight mixes may need to be held firmly with special tree anchors until their roots spread.
In a more protected environment and if you have access to plenty of water, use the high light conditions to grow rooftop vegies, herbs and fruit. Vegies and herbs can be grown in containers or consider a vertical garden. There is a growing range of vertical garden systems that are ideal for small spaces such as rooftop, balcony and terrace gardens.