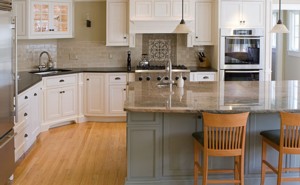 Going once, going twice … sold! 
When P.R. Constructions, one of Brisbane's leading builders, asked Cuisine Kitchens to come on board and add the finishing touches to a stunning new home, the company was expecting big things — and Cuisine Kitchens delivered just that. Desiring loads of special appeal to generate a quick sale, the kitchen design was crucial to the overall look and feel of the home. Not taking the task lightly, Gerry van de Linde and his Cuisine Kitchens team put their thinking caps on and came up with this striking design.
A visually pleasing, olive-coloured glass splashback greets visitors. Their eyes are quickly diverted to the unique sloped ceiling with a window that is framed by the symmetrical design of the darkly toned, lacquered units on the back wall. Cuisine Kitchens has utilised an interesting blend of shades and materials to produce this exciting design. Laminex panels sit above stainless-steel kickboards while a more natural-looking product, essa stone, was used for the benchtops and the floor features highly polished timber boards. A host of top-notch stainless-steel appliances integrated around the space completes this incredibly liveable design.