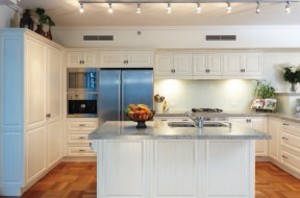 A major renovation resulted in this modern open-plan house that is as functional is as it is beautiful

Situated in the Sydney suburb of Epping, this house was originally a single-storey residence facing north-east to front, and set deep in from the front building setback. This brick veneer house had a shallow-pitched Colorbond roof and gable ends. According to Lalit Mital, chartered architect for Dynamic Design Solutions, "Although a prime corner location, the house was barely visible from the primary street or noticeable from the street front due to sloping land. It was sunken down below front road level and further obscured by the shrubs at the front. From the secondary street, the house had a Colorbond boundary fence, no street presentation or articulation towards the street."
According to Mital, the aim of the project was to "give a complete facelift to the entire house with a fresh new look, a contemporary-style design and open-plan living. We wanted to do this with deft use of scale/proportions, materials, colours and finishes, to create volume of spaces full of natural light and ventilation. We wanted to elevate and articulate the front and side street facades to bring an identity and street presence so that it is conspicuous when people drive past. Furthermore, we wanted to blend existing houses with the new extension so the entire house is integrated as one."
The brief for the project included:
• Rationalising the existing floorplan (open-plan living)
• Allowing plenty of natural light and cross ventilation (use of skylights)
• Adding one new guest bedroom and ensuite
• Adding an ensuite to the existing master bedroom
• Making the study larger (into a fourth bedroom) and relocating the external laundry into an internal laundry
• Internal access to existing garage
• Adding a large deck to the rear for entertainment overlooking the rear private open space.
According to Mital, some of the special design considerations included an addition to the front of the house, which required careful design consideration as it affected the streetscape's front two streets. The design ensured the house was elevated well above the front street level and is visible from the street. A tall front façade was then articulated and interest created by breaking surfaces into two materials — Colorbond wall cladding and rendered walls painted in complementary colours. The high-raked roof provided a volume of space inside, supplemented with square north-facing windows to the front façade. This also achieved the aim of not having a box gutter at any given location.
Placement of a masonry feature wall/blade wall on the east, painted in contrast red, is the result of careful architectural detailing as well as design resolution as it defines the end of the existing house and existing Colorbond roof on one side and commencement of a new extension beyond on the other side. The fact that the existing house already had a Colorbond shallow roof set the challenge to create a design solution that would retain the existing roof as it is and yet develop an innovative design that blends and complements it.
Mital's favourite part of the renovated space is "the north-easterly newly added lounge room at the front: high-raked ceiling with downlights, with one of the internal walls featuring a wall painted in red, and blackbutt polished floor. It is an experience to sense the space and volume filled with natural light as it has windows on three sides — east, north and west. As the sun moves during the day, it creates dramatic light effects."
In hindsight, Mital claims there is only one thing he would change if the budget constraints were not there. "I'd have considered having the ducted central air conditioning included while all ceilings and walls were open, prior to re-lining."
Mital adds that, "Although contradictory in many ways to council's push for traditional and sympathetic streetscape and neighbourhood character context, this home's unique design stands out particularly at this conspicuous corner location, yet it blends and sits on site extremely well, enhancing the streetscape and neighbourhood. It is a sensitive and thoughtful design that has emerged after careful site analysis, selection of right materials, textures, finishes and colours. Most importantly, the use of the right scale, proportions and articulation of facade have manifested this project into a delightful and rich architectural experience."
Project particulars
The project was designed by
Lalit Mital, Chartered Architect, RAIA, Dynamic Design Solutions
ADDRESS: 18, Third Avenue, Epping NSW 2121.
PHONE: 9617 0267.
EMAIL: lalitm@optusnet.com.au
WEBSITE: www.dynamicarchitects.com.au
The project was built by: Hazzouri Construction Pty Ltd
PHONE: 0414 549 510
FLOORING: Kitchen/Dining/Living: Blackbutt T&G timber flooring
Bedroom: Carpet
Outdoor: Tiles
WALLS: Kitchen/Casual Dining: Ceramic tiles splashback
Kitchen/Dining/Living/Bedroom: Plasterboard
Outdoor: Rendered and painted in two contemporary colours
Blade/feature wall: Red
Other: Feature blade wall, rendered and painted
AIR–CONDITIONING: 4xFUJITSU reverse-cycle split A/C system servicing lounge, dining, family and bedrooms
KITCHEN: Benchtop: CaeserStone, Ice Snow. Splashback: contemporary-style ceramic tiles. Cabinetry: white vacuum foam doors. Other: all kitchen appliances from Winning. Rangehood: stainless-steel Ilve. Sink: double-bowl Oliveri. Oven: Blanco. Cooktop: Highland solid stainless-steel 3mm plate/hob 700mm wide four-gas burner
SANITARY FIXTURES + BATHROOM FITTINGS: Caroma. Tapware: Grohe. Bath: spa 'Stylus'.
LIGHTING: Downlights in lounge, dining, kitchen.
WINDOWS + EXTERNAL DOORS: Solid timber front and rear doors from Doors Plus: Waterfall Airlite, Western Red Cedar, stained in natural colour. Western Red Cedar blinds to small square windows. Helioscreen (fabric) blinds to front three north-facing windows from Blindmaster
SLYLIGHTS: Two Skylights from Velux — 600x1200mm, one in Family and one in Dining
TWO SKY TUBES: one in laundry, one in passage
Outdoor
LANDSCAPING: Superwhite 40-50mm pebble stones adjacent to the front entrance
DECKING: Modwood decking: synthetic product, does not rot/decay and does not require paint/maintenance
ENTRANCE PORCH/AWNING: treated pine timber post and pergola, stained in natural timber with 10.38mm safety glass awning
FRONT FENCE, PRIVACY SCREENS: Merbau hard wood horizontal timber slats in 50mm SHS steel powdercoated in 'Plantation' colour to tie up with Colorbond roof and cladding
GARAGE DOOR: Gliderol Panel Glide, Colorbond colour 'Dune'.