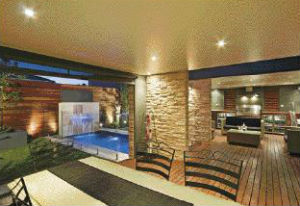 This contemporary outdoor room is designed to provide year-round enjoyment
When your starting point is a hideous existing outdoor structure you often have a fundamental dilemma to face. Do you pull it down and start again or do you renovate the existing structure, perhaps uncovering a multitude of hidden problems that just might lead to a costly nightmare?
In this instance, Outdoor Creations did the sums and decided the most cost-effective option was to renovate the existing structure.
"The closed-in nature of the existing lean-to meant the interior of the house was quite dark, so letting a lot more light in was the first priority," explains Outdoor Creations designer, David Kirkpatrick. "This was achieved by virtually knocking out the walls and putting in a pitched skylight. This also gave the very low existing structure the illusion of height."
The flooring was then changed to polished timber, the interior fixtures and panelling wall added and an outdoor kitchen with ample bench and storage space installed. Next to the outdoor kitchen, a casual conversation zone was created; on the other side of the outdoor room, a spacious dining area was established. Both entertaining areas offer views of the pool with its deep-blue-tiled interior and sheer-descent water feature.
One of decisions Outdoor Creations faced was whether or not to retain the existing stack stone. "This debate was based on the fact that this material is a current fashion item and will date. In the end, we decided to leave it with clear instructions to remove it as the fashion for this material moves on. At that point, it will be replaced with rendered sheets to match the rear pool wall," says David.
Not only was there a definite deadline for completion (it had to be finished by Christmas), the outdoor room had to be constructed while the pool and garden were being installed. With so many tradespeople working on site concurrently, skilful project management was vital to ensure a successful and timely outcome.
"What the owners now have is a fabulous new space providing depth, usability, a number of different outdoor rooms so the children can have a variety of options, and a stunning addition to the house that adds enormous value over and above the cost of the works," says David.
Project details
Landscape design and construction by Outdoor Creations Phone (03) 9439 0005 Email design@outdoorcreations.com.au Website www.outdoorcreations.com.au
Photography by Patrick Redmond