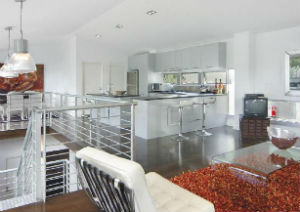 An existing dilapidated single-storey warehouse in Sydney's inner city is transformed into a modern and functional home
THE CLIENTS' BRIEF for this project was for a single, open-plan living space on the lower level, with the bedrooms in the existing roof space opening onto a new deck.
The property is located in the inner-Sydney suburb of Glebe and the clients were very keen to maintain the warehouse feel throughout the new extension. Design considerations included creating plenty of light, aspect and amenity for the living areas and a usable outdoor space.
"It became immediately apparent that we would have to remove the existing roof to accommodate the bedrooms as there was not enough headroom, which led us to the idea of flipping the entire scheme to place the living areas upstairs," said architect Justin Quinlan.
This involved floating a new steel box over the top of the existing single-storey building. The junction between the two volumes is a continuous glowing slice of glazing that further enhances the material disjunction between the old and the new.
The living spaces wrap around a central lightwell on the upper level and open out onto a north-facing elevated terrace over the master bedroom. The central lightwell acts as the heart of the house, containing the vertical circulation and providing light and ventilation to the lower levels.
The upper level is constructed as a series of steel portal frames, which rest on a continuous ring beam that runs along all boundaries on the site.
The dwelling's original warehouse origins are reflected in the internal finishes, with raw anodised aluminium staircases and balustrades combined with dark stained timber floors and whitewashed walls.
As with many older buildings, there were challenges when it came to construction. The lime mortar in the existing brickwork had lost all structural integrity so no new loads could rest on the existing skin. Therefore, the architects had to create a new steel 'sleeve' inside the existing building to support the upstairs. The existing building was then tied back to this. The front façade wall was falling out into the street so the entire parapet was rebuilt; the existing main's connection was faulty and not to code, so a two-metre-deep trench had to be cut across the laneway to reinstate all the plumbing. There were so many issues with the existing shell that some, due to cost constraints, remain unresolved.
"Most warehouse renovations are heavily internalised," said Justin, "but in this instance, the combination of the internal lightwell and elevated deck have created an environment which is far more adaptable to the Australian outdoor lifestyle."
When asked what his favourite part of the renovated space was, Justin answered "the open-plan living area and its relationship to the deck". And was there anything he would have done differently? "With the benefit of hindsight, I would have recommended complete demolition of the existing building because of the condition it was in and the problems it caused," answered Justin. "I would also have brought the entire project into line with contemporary construction standards."–CHD–
ARCHENGINE PTY LTD
Level 5, The 'Art Wall' Building
13 Kirketon Road, Darlinghurst NSW 2010
Tel: 02 8354 1471
Fax: 02 8354 0977
Website: www.archengine.com.au