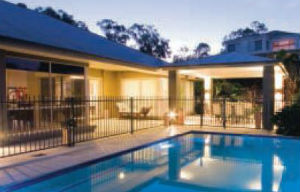 An outdoor room and garden design inspired by the tropics gives a sense of sanctuary
We all crave an escape from the hustle and bustle of daily life and the tropical-style garden makes the perfect sanctuary. Surrounded by lush layers of boundary-disguising plants, soothed by the sound of a trickling water feature and tucked up safely beneath the shade of a poolside pavilion, what could provide a person with a greater sense of retreat?
Thanks to Wayne Giebel Landscapes, this Brisbane family can enjoy all that — and more. Eschewing the rigid, clinical lines you find in so many gardens today, Wayne Giebel came up with a "taste of the tropics" design that creates a welcoming, relaxed ambience. And it is a design that puts every corner to good use, from the spacious covered alfresco dining pavilion to the family-sized pool.
Subtle touches abound, such as the ball fountain that sits in a bed of river pebbles and is wrapped in a protective band of colourful foliage plants. This focal point is perfectly positioned to be enjoyed from the pavilion and is watched over by a serene seated Buddha statue.
In transforming this garden, Wayne and his construction team had to resolve the existing slope of the land, which they did by introducing terraces constructed from large sandstone rocks. These terraces were planted with largely tropical-style plants which, after several years of growth, are flourishing.
Wayne took great care in choosing the right paving material for the area around the pool, the new pavilion and the existing entertaining space that was to be re-surfaced to complement the revitalised garden. To enhance the tropical ambience and complement the sandstone terraces, he opted for imported Himalayan sandstone paving tiles with a honed finish.
Most of the plants were selected for their vibrant colouring or interesting foliage, including tropical rhododendrons, Metrosideros 'Springfire', Cordyline 'Purple Sensation' and golden cane palms. This is balanced out by the somewhat more "traditional" hedging and screening plants such as Michelia 'Coco' and Syzygium 'Cascade'.
At night, the outdoor lighting gives the garden a whole new feel, which makes sitting in the pavilion surveying the lush gardens a pleasure no matter what the time of day.
Project details
Landscape design and construction by Wayne Giebel Landscapes 4 Renoir Crescent, Forest Lake Qld 4078 Phone (07) 3271 3092 Fax (07) 3271 3092
Email wayne@waynegiebellandscapes.com.au Website www.waynegiebellandscapes.com.au Photography by Glenn Weiss