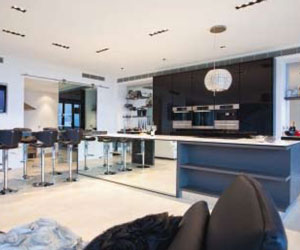 Issue 18.1
A celebration of kitchen design from up north
Story by Donna Peters

Going troppo
Take a trip to far north Queensland for a burst of tropical kitchen inspiration.
With its seemingly never-ending summer and laidback lifestyle, tropical north Queensland might just hold the key to a happy home. With household doors almost never shutting out the outdoors, it appears only natural the kitchen sit astride the front and back doors.
Lee Hardcastle of Enigma Interiors and Flint Outdoor Kitchens and Gerry van de Linde of Cuisine Kitchens know just what makes the north Queensland tropical kitchen distinct. Here, they give a guided tour of gourmet kitchens, through the ins and outs of the style. And if you don't live where the sun's always shining there are a few tips on bringing the signature style to your home, too.
Living the life
"When anyone thinks of tropical north Queensland, an immediate picture of sun, water and fun comes to mind," Lee muses. "The style and design of many homes in the region therefore reflect those elements." In his designs, this manifests itself in the form of extra-large door openings, open-plan layouts, tall ceilings and louvres to allow better airflow. These aspects combine to liberate space, freeing it from the burdens of formal areas, which don't fit with the casual lifestyle of the region. And by blurring the line between inside and out, fresh air is able to flow freely throughout the kitchen as well its surrounds. In addition, the louvres can remain open throughout the seasons to regulate the internal temperature and lower the need for energy-guzzling heating and cooling.
For Gerry, the greater surrounds of the home are key, as is the holiday vibe of the region. "I need to get a feel for the site in order to design a kitchen to suit the environment," Gerry adds. "But generally I like to design kitchens with a relaxed lifestyle in mind. Large areas where a newspaper can be spread out, seating — most often stools — where people can gather and chat while a meal is being prepared."
Apples and oranges
It's difficult to find similarities between a small inner-city kitchen and those found at the country's top end and this is because the two face different daily demands and should be designed with their specific needs in mind. "My approach to designing a kitchen in the tropics somewhat differs from designing for a Sydney apartment," Lee explains. "But no matter where the home, the focus has to be on the resident's lifestyle, and in the far north it's all about a good barbecue, seafood and drinks with friends."
Home entertaining is focused on the outdoors and as the desirable weather continues almost year round it makes sense that layout and design of the home are focused on fostering a relationship with its exteriors. "A summer evening in the tropics is a beautiful experience. The wide sliding doors open to the gentle breeze," Gerry says. "The holiday feel is created by the indoor/outdoor connection. I always like to see a wall of large sliding doors that open to create an area that flows on the same level between both areas."
Room with a view
Having the kitchen melded with an alfresco area opens the room while providing it with an enjoyable vantage point. The room is not confined and the view is not restricted to a small window, a benefit Lee likes to embrace in his designs by placing a large island bench facing the verandah or deck.
Of course, this means the kitchen is also on show and must look the part. "North Queenslanders aren't afraid to apply colour, and vibrant blues, yellows and burnt oranges are regularly used to mimic the tropical outlook," Lee reveals.
Tough stuff
Tropical north Queensland weather spans the extremes, with downpours and cyclones, heatwaves and humidity all experienced. For this reason, the materials selected for kitchens built in the region need to be low-maintenance and resilient.
"Natural stone is well liked due to its ability to cater for anything thrown at it, making it the ideal bench surface. Natural timbers, although beautiful in appearance, are normally used for floors rather than cabinet doors, since the weather patterns wreck havoc on the timber, causing it to expand and contract," Lee says but clarifies. "Still, natural timbers play an important role in plenty of North Queensland homes."
Gerry includes marble in his list of favoured materials as well as high-gloss two-pack paint finishes. "My immediate thought is to use earthy veneers but then I have gone to the other end of the spectrum and used colourful two-pack paint finishes with engineered stone to create a vibrant, relaxed theme," he details. Stainless steel and aluminium also lend themselves nicely to tropical kitchens. "And don't forget lively mosaic tiles for splashbacks," Lee adds.
At your house
You may not call Queensland home but you can evoke the spirit of the tropical style in your kitchen and take it as a cue to kick up your heels more often during your downtime. "The style of kitchen that is designed for tropical north Queensland can easily be adapted for use elsewhere, but the style of house would have to be taken into consideration," Gerry urges. In many ways, those south of the region can adopt the best bits of the design style without worrying about the external stresses on interiors, leaving you free to use climate-sensitive materials.
"No matter what climate or conditions a designer is bearing in mind, though, any great Australian kitchen could boast similarities to a tropical kitchen," Lee confirms and offers an example. "Simply fusing the indoors with outside will do it." A dominating island bench at the centre is another element seen in open-plan kitchens everywhere, but you could take it a step further and install posts or louvres to really emulate the far north.
However, Lee points out there is one essential component of northern Queensland kitchens that is hard to replicate. "Tropical kitchens do have finesse about them; the way they merge with nature is unique," Lee says. And Gerry agrees: "Even when the rain comes and the cyclones hit, the sliding doors can be shut and everyone moves inside to watch the rain swirl and the palm trees bend. There's always something special to look out at from the candlelit interior of a far north kitchen."
Take it outside
Outdoor kitchens are rapidly becoming popular in north Queensland and it seems like a logical evolution for the tropical kitchen. The concept sees the barbecue take on a whole new life as it becomes the centre of the work zone, which is decked out will all the conveniences of its indoor cousin. In fact, many are more luxurious than those found indoors, with drink fridges, wok burners and wood-fire ovens among the many extras on offer.