If you're looking for a small first home, or something to downsize to, the Kiamba is a fantastic kit home option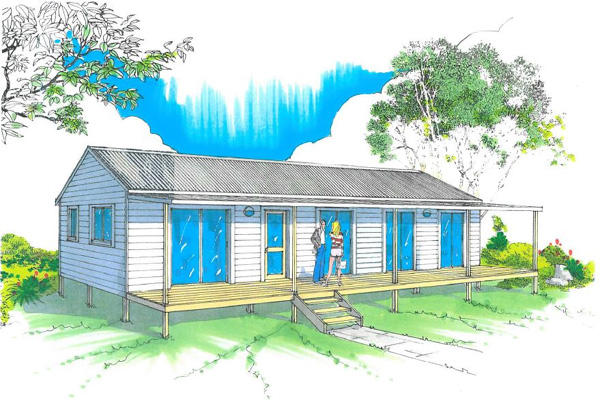 With a traditional Australian colonial design, the Kiamba can suit as either an everyday home or holiday cottage. The design includes a wide front verandah space, giving plenty of room for entertaining and relaxing.
This kit home is a perfect choice for first home buyers. As the design allows for extensions and additions, the home can adjust as a family grows and changes. The floor plan is simple and can easily be adjusted for a future renovation or extension.
Part of the beauty of this design is how flexible it is. An ensuite can be added to the home by simply choosing a design with an extra bedroom – extra bedrooms can be converted to different spaces, such as ensuites and walk-in wardrobes. The team at Classic kit homes can help with the conversion in the design.
The Kiamba range has one, two, three, four or five bedroom floor plans. All designs have built-in wardrobes and 2.4m wide verandahs.
In you're looking for a larger option but love the simple look of the Kiamba, you can easily expand to a bigger design. Previous buyers have bought two Kiamba kit homes, mirror-reversed one and built them together as one home. The result is a five bedroom home with an ensuite – and plenty of space for everyone. This design also allowed for the second kitchen and laundry to be used as additional spare bedrooms or office-space. The beauty of a Kiamba kit home is that it gives you the freedom to customise your home to your needs. And be as innovative as you like.
Fact sheet: Kiamba Kit Home
Colonial style home
Available in one, two, three, four or five bedroom floor plans
Built in robes in all bedrooms
Ceiling height 2.7m (9ft)
Open plan living, dining and kitchen area
Wide 2.4m verandah
The simple design of this home allows for easy extension or renovation at a later stage
This design is suitable for flat or sloping sites and may be elevated for a high set home, with garage, living rooms or storage underneath
As with all Classic Kit Homes, this plan may be reduced, enlarged or modified to suit you
For more information about the Kiamba kit home, visit the Classic kit homes website: