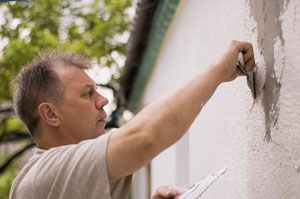 This stunning renovation paid off handsomely when the finished home went to auction
Prior to the renovation, the existing building on this site was a solid-brick single-fronted one-storey row house in good condition, a result of being very well constructed. This house was ready to be rejuvenated without having to be rebuilt.
According to Chris Goss from Orbit Solutions, a Melbourne-based architectural firm, "The client was after a design that went beyond the ordinary. Having worked with us on a previous project he was enthusiastic about pushing the envelope and appealing to the high end of the market. The front three bedrooms were retained and the rear living area, kitchen and bathrooms were removed. These had been renovated a few decades ago and all original elements had lost integrity.
"This is a building that soars, springing from the old. It has resulted in a light-drenched living space linking the heritage-listed single-fronted cottage with the new garden to the north. The addition sweeps upward, forming a curved central ceiling to the open living area and suspending the master suite above.
"One of the aspects to be capitalised on in this building was the abundance of natural sun as it washes down the party walls through the extensive glazing strips along each side. At any given time, those at home enjoy the cheerful, light-filled spaces or the comfortable connection to the stars above at night.
"The master ensuite leads to its own private deck; open to the sky through a circular aperture, this hidden deck is an oasis that can be enjoyed with the large window pushed back as you soak in the bath. The design was inspired by a sketch that arched the new extension out of the existing heritage roots, bridging it across the site to the street behind. The new curvilinear form springs up from the existing and soars above the living area, with the trajectory arching over the landscaped court and forming the line of the curved roof over the garage/entertaining space to the rear.
"Everybody loves the floating effect of the master suite that arches over the living area, creating its curved ceiling. The swathe of glazing running along each party wall promotes this feeling of lightness and is a marvellous generator for the remaining detailed design. Another favourite is the hideaway master bathroom suite, with its deep bath and window that allows the circular cutout above the private deck to flood the bathroom with light and natural airflow. However, in hindsight we would have made more of the internal bathing deck. At the design stage it was not fully realised just how special the opportunity was and how much privacy was still available while having such good exposure to distant views.
"The renovation exceeds all expectations of those who approach the house. Upon entering the front door it is immediately apparent that there is a light-filled living space beyond. The forms can be easily discerned as they soar upward and through the glazed skylight strips. The materials, finishes and detailing take the project beyond the everyday into the realm of the special. Developed for a discerning market in Melbourne's wealthy inner-city beachside suburb, the single-fronted residence tumbled previous price records when it went to auction."
Project particulars
The project was designed by Orbit Solutions Pty Ltd
4/45 William Street, Melbourne
Tel: 03 9620 5200
The project was built by Cojack Developments
Tel: 0414 440 920
Licence number: DBU 27295
FLOORING: Kitchen: grey ironbark
Dining: 300 x 600 laser-cut Italian tiles
Bedroom: wool carpet
Stair: grey ironbark
Outdoor: slate 300 x 600 tiles
WALLS: Kitchen/Casual Dining: plasterboard / smooth-finish rendered feature wall
Interior: plasterboard
Outdoor: brickwork rendered
KITCHEN: Benchtop: re-constituted stone
Splashback: Starfire glass
Cabinetry: 60% gloss 2-pack paint finish
Oven: Gaggenau
Exhaust Fan: Gaggenau
SANITARY FIXTURES + BATHROOM FITTINGS: Bathroom: Reece Design
LIGHTING: Fabbian Lighting
WINDOWS + EXTERNAL DOORS: natural anodised aluminium commercial 100mm frames, windows and doors
OUTDOOR: Landscaping, decking, shading or paving details: Landscaping by Robert Boyle Landscaping Design