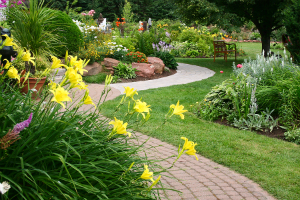 Indoor-outdoor living means you get to enjoy the best of both worlds
Story: David Garrett, MAILDM
Traditionally, most properties in Australia have consisted of two main spaces: the house and the garden. However, recent trends have defined a third space and that's the "bit in the middle": the "indoors out" area. It may be a space still searching for a formal name but, call it what you will, it's a most useable space that provides a seamless connection between the house and the outside environment.
New-home builders have certainly recognised the value of the "indoors out" area, with most new houses owning at least a basic paved and covered area, usually attached to an open-plan kitchen or living room. Renovators have also realised the benefits of creating an indoor-outdoor connection, many of them rushing to open up the back of their homes to create that all-important "extra room" — a room that can be used for most of the year and provides many benefits that internal spaces do not.
Achieving fusion between interior and exterior design elements is essential and the key is repetition of colours, materials, textures and decorative features.
Extending the feel of the internal flooring through wide bifold doors (gone are the days of the single back door to the garden!) is a great way of reinforcing the flow to the outside, and a close marriage of the internal and external levels will complete the transition. An interior timber floor, for example, will blend perfectly with an oiled hardwood timber deck. Incorporate some built-in benches with outdoor cushions to match the internal furniture, repeat paint colours and the two areas will appear "as one".
To ensure the deck area also blends with the larger landscape, add raised planters and pick up on some of the plant forms and colours in the garden. Then all you need to do is open a bottle of fine wine and enjoy the cool breeze and the soothing rustle of the leaves.
Indoor-outdoor entertaining spaces offer limitless potential, as can be seen by the recent increase in outdoor kitchens complete with cooktop, rangehood, fridge, sink and storage. Of course, this requires a weatherproof roof of some kind, but once the covering is in place, your options continue to increase. Why not include heating or a plasma screen with surround sound, linked to your interior home theatre system?
Lighting is crucial to the functionality of any indoor-outdoor entertaining area; it can also be used to create a variety of interesting and dramatic effects. My two personal favourites are the moving shadows created by a back-lit sculptural plant swaying gently in the wind, and the theatrical display created when light is mixed with moving water.
Not all "indoors out" areas have to function as entertaining spaces. Tiny lightwells in townhouses can provide an interesting internal focal point if turned into small Zen-like spaces, for example. All you need is some raked gravel, symbolic rock and water elements, bonsai-style plants and a stand-alone lighting set-up. 
Another way of connecting to the great outdoors is to have large expanses of glass in your living areas. This allows natural light to flood your home and has the effect of almost making the walls of the house dissolve, serving to merge indoor and outdoor spaces.
So, whether you're building from scratch or considering a renovation to create a third space, your new "indoors out" area will invariably be a worthy addition to both your lifestyle and the re-sale value of your home.
Five top tips
1. Repetition is the key to integrating internal and external spaces.  Keep floor and wall treatments the same so both areas read as one.
2. Have the water, gas and electricity plumbed to the "indoors out" area so you can cook for friends without having to dash in and out of the house.
3. Install wide bifold doors so the entrance to your "indoors out" area is welcoming and inviting and so flow is uninterrupted.
4.  Continue the same floor level through to the "indoors out" area to create a seamless transition from one living area to another.
5. By installing a roof over the "indoors out" area, you'll be creating a cosy "room" that meets all your needs in all weather conditions.