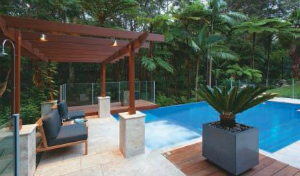 If you're planning a tropical-style garden, here are some tips for including a pool
By John Storch
1. Design themes
Take a peek into any tropical-style garden and you'll find a swimming pool that falls into one of two styles. The first is the traditional freeform pool with an interior finish of pebble or stone and perhaps some strategically placed decorative stone boulders dotted around the perimeter. The second is the more contemporary style, characterised by clean geometric shapes and modern materials that link with the architecture of the house. The first step is to decide on the style, as well as the shape and size of your new pool. The next is to have fun designing the surrounds and the wider landscaping.
2. Interior finishes

Any type of interior finish may be used with tropical pools. It is the colours that are important to create the style and mood. Two types of water colour are predominantly used with contemporary-style tropical pools — either a light ocean 'turquoise' colour to help create the image of an island holiday, or a deep blue, grey or black colour to create a feeling of mystery which may also tie in with some of the artefacts that may be incorporated. In traditional-style tropical pools, pebble, dark paints or Wistow stone is predominantly used. External paint colours used on walls and timber decking may be either stone complementary colours or vibrant contrasting colours such as cobalt blue and aubergine.
3. Water features

One approach is to go for large splashing rock waterfalls and/or a spa set into a rock niche with the spa water cascading into the pool. These rocky cascades or grottos can be created from natural stone but that can be expensive. That's why many people opt for pre-formed, lightweight rock look-a-like products for poolside water features. More contemporary styles might use several different levels of ponds to create a water feature or a sheer-descent water feature set into a wall. In dark-coloured pools, still water can be used to create a reflective pond appearance, silhouetting the surrounding vegetation.
4. Decorative touches

Locally recreated versions (or authentic imported versions) of Japanese bamboo water spouts, Balinese temple plaques or carved stone water fountains from Lombok all make wonderful focal points. So too can colourful Balinese umbrellas and fabric flags that dance about in the breeze. Placing artworks on nearby walls, around the pool perimeter, or nestled in garden beds helps to set the tropical scene. For added ambience, include carved stone lanterns, into which you can place candles when you want to create a romantic mood. Flaming lanterns set along a path or in garden beds can also add to the evening appeal.
5. Planting approach

Depending on where you are in Australia, the canopy and tree planting should include palms such as Kentias and Bangalows, plus tropical-feel flowering trees such as frangipani and the unusually shaped Pandanus. Vines such as devils ivy and flowering mandevilla add to a tropical feel and complement shrub plantings of cycads, parlour palms, bromelaids, philodendron, birds nest ferns and rock orchids. For screening, bamboo and lilly pillies work well. Old Man Moses Beard may be draped over taller shrubs for an aged feel. Accent plants such as Gymea Lilies create interest in the garden and the bold use of colour with plants such as red cordylines, golden duranta and Canna 'Tropicanna' can create a more contemporary tropical design.
6. Made in the shade

A poolside or nearby shade structure is ideal. A thatched gazebo is a popular option as nothing says Asian style or the tropics more than thatched roofing. The gazebo can be as simple or as grand as budget dictates, but you might want to go all the way with your theme and have a gazebo with decorative supports and detailing hand carved by Balinese craftsmen. Other options are colourful shade sails across part of the pool or the pool surrounds, or a large umbrella like you find in tropical resorts.