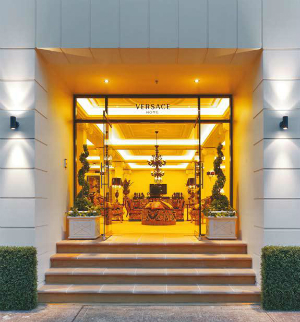 In only three decades, Maison Versace, founded in 1978 by Gianni Versace, has achieved recognition as one of the leading Italian luxury international fashion houses in the domain of Italian luxury.
To this day, Versace continues to expand its global luxury lifestyle in fashion, cars, aircraft, yachts, hotels and home collections, and now home design. The luxury of Versace Home can now be found in Australia since it opened the doors to its architecturally designed boutique located in the design precinct of Waterloo, Sydney. The boutique features a classic array of Versace Home furniture, duvets, cushions, tiles and fabric collections. Finally in Australia, the entire collection can be viewed and is available to order and purchase directly from the Sydney boutique, including a custom-ordering system exclusive to the Sydney boutique should you require specific custom-size Versace furniture for your home.
Versace Home is more than just a boutique; it offers a complete interior design service. This "Atelier" concept offers personal consultancy regarding design and advice on fabrics, colours and furnishings, right through to the more complex project design of luxury private homes. unite the philosophy of luxury and innovation within the Maison's glamour code. The new Home collection is pure 21st century Versace and soon to arrive in the boutique is the ultimate representation of contemporary living. Clean lines juxtaposed with detailed prints and colours are the keys to the whole collection including explosive palettes of pastels and nuances of whites. Desirable items arriving in Versace Home Sydney boutique this year include 'Sunburst', a crystal round table with a base composed of 14 elements in chromed metal that conveys the strength of a solar explosion. There is also the extremely clean and contemporary shades of Narnia, Versace "armoir" with optical-neoclassical decorations inspired by a marble intarsia found in the Palazzo in Via Gesù 12. Perhaps even the pure and ethereal design in the hallmark of the 'Vanitas' armchair, which is now presented in a multicoloured version or total black with the seat in reflective gold will take your fancy. In this new Versace Home collection the rules of neoclassical design have been rewritten and projected into the future with an extremely contemporary interpretation. The boutique is open seven days from 10am to 6pm and you will find this epitome of luxury at Boutique 3, 409 George Street, Waterloo Sydney.