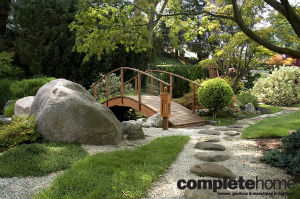 One of our oldest natives, the grass tree is a popular feature in the modern garden
With its large tufts of long wiry leaves and tall flower heads that look like spears carried aloft, the grass tree (Xanthorrea sp.) is truly unique. Found right around Australia are nearly 20 species of grass tree, but all share the same distinctive characteristics. 
As it ages, the grass tree develops a picturesque stubby trunk. The trunk is made up of the old leaf bases cemented together by a resin that used to be harvested to make high-quality varnish. In the bush, fire can cause the trunk to branch into two or more heads.
The flowers take the form of long cylindrical spikes rising out of a skirt of grass-like leaves. Tiny white to yellow florets form at the top of each spike, which in turn produce seed capsules.
The grass tree is generally a summer flowering plant (although some flower into autumn and winter) that will grow in most climates as long as it has well-drained soil. While it will take light shade, it is happiest in sun and, because of its striking form, it deserves to be placed where it will catch the eye.
Once established, it is wonderfully long-lived and drought-resistant, but bought specimens should be planted with care and given some supplementary water during the first year or two.
Although grass trees don't tend to be plagued by pests or disease, they are painfully slow growers, which is why most people tend to buy established plants from nurseries. While some plants will have been grown from seed, others will have been collected from the bush. Removing grass trees from the bush is illegal without a permit. And it's specialist work. To ensure your plant has comes from a legal source, look for the official tag.
Bush-grown grass trees — typically, salvaged from areas about to be cleared for development — may well need up to a year to recover before they can be transplanted into someone's garden, so find out how long the plant has been in the nursery before you buy.
If you want to try growing your own grass tree from seed, you need to sow in spring, but keep in mind it may take up to 10 years for a trunk to start developing and up to 30 years for leaves to start sprouting. Chances are, you'll have moved on long before the plant starts to mature.
Established plants can be a boon to a garden, though. They're water wise; because of their sculptural form they can be used as feature plants to great effect in both native and modern-style gardens; and they are great plants to have if you want to establish a habitat garden. The mature grass tree will attract lizards and insects that seek shelter in its massive tuft of leaves while the flowering spear will attract butterflies, bees and honeyeaters.
Just remember to buy plants only from accredited nurseries as plants taken illegally from the bush remove much needed shelter and food for native animals.