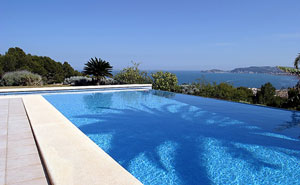 Noted for their innovation, Queensland pool builders lead the way in water-wise design
By Vikki Mason
When people think Queensland, the images that immediately spring to mind are of summer, sunshine and swimming. So it's no wonder that Queensland pool companies are leading the way with their unique designs and water-wise practices.
Whatever the size and shape of your outdoor living area, whether the purpose is for relaxation or exercise, Queensland pool companies are consistently coming up with award-winning pool and spa designs — and this is despite being hard hit by the drought.
To combat the potential impact of the drought and show Queenslanders they could be water-wise and enjoy their swimming pools at the same time, last year SPASA (Swimming Pool and Spa Association) Queensland launched their EcoPool initiative.
The first program of its kind in Australia, it is based on a checklist that rates the water efficiency of pool designs and products. If the pool ticks all the boxes on the checklist it qualifies for SPASA Accreditation as an "EcoPool".
The average evaporation rate of a domestic swimming pool is 20,000 litres per annum. To minimise this water loss — and to compensate for it — the checklist rates a variety of positive water-saving features such as wet edge grating, the use of pool blankets or covers and the provision of shelter from wind against negative features like inefficient water filters, negative pool edges, inappropriate coping and poorly designed water features. The highest scoring positive feature is rainwater storage for pool top-ups.
Developed to encourage and acknowledge responsible pool ownership, owners who qualify receive an EcoPool sign they can display to show that their pool is "town-water neutral".
An added benefit of this scheme is that it applies to new pools as well as existing pools. In fact, any pool can be retro-fitted with water-saving devices and become a SPASA Accredited EcoPool.
One company that helped to develop the initiative and is now incorporating the various water-conserving practices into its designs is Majestic Pools and Landscapes, Australia's most awarded pool builder and winner of Pool Builder of the Year in the 2008 Queensland SPASA Awards.
Andrew Jakovac of Majestic Pools and Landscapes says that his company's team is dedicated to ensuring their pools work as part of an overall plan for the home, and that includes employing water-saving measures.
"Our designers go to great lengths to ensure the pools we create suit the character and existing style of the home, as well as making sure the pool has that all-important 'wow' factor," says Andrew. "We always go that extra mile."
Another company focused on combining style with water-wise design is Pool Fab Swimming Pools. They have created a pool that generates water that can be used throughout the backyard or to top up the pool.
Water is collected in a 5000-litre tank from a stormwater diverter from the house and an overflow pipe on the pool. This greatly reduces a household's reliance on mains water for things like garden irrigation.
With award-winning pool companies such as these incorporating water-wise practices and embracing initiatives such as SPASA EcoPool Accreditation, the future continues to look bright for Queensland pool design. For more information on the EcoPool initiative, visit the SPASA Queensland website: www.spasa.com.au