by Sarah Tonkin 
The classical history became a contemporary backdrop for the home's new look.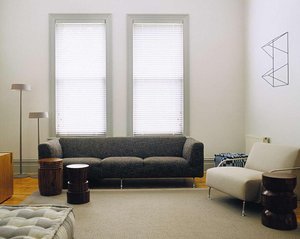 Despite various cosmetic updates over the years, these owners decided an overhaul of the interior was necessary in their Victorian home. The bathrooms and bedrooms were in desperate need of an upgrade to accommodate the changing needs of a family with teenage and adult children, while commonality was also needed throughout the residence.
With respect shown towards the house's Victorian history, FMD Architects has taken a new design approach to transform the house with all its reproduction fixtures, fittings and details into a generous, contemporary residence complete with demure dove grey walls and quirky timber detailing.
Throughout the home's update, the core layout remained intact, although new openings between the formal dining and living areas were created to expand the space. The existing floorboards were retained and polished for a sleek new look and the addition of bespoke furniture, fittings and rugs was all part of the scope of the upgrade. All the existing classical features of the residence came together as a source of inspiration for the new design premise.
The expansive nature of the living spaces is celebrated and thoughtful new elements have been introduced, such as the credenza in the dining room. This simple timber feature has a balanced relationship with the home's surrounding Victorian features. The carved wine bottle niches not only highlight the particular requirements of the family but assist in informing the function of the unit in a playful manner.
Corresponding wooden elements connect the home from room to room, with similar features appearing in the dining room, living room, walk-in robe of the master bedroom and also in the bathroom. The earthy strength of these features bestows a unique charm and works simultaneously with the muted colours and textures chosen to emphasise the differences between old and new.
The bathroom and ensuite were both redesigned to cater for the growing needs of the family and there was no holding back on style or comfort. Heated towel rails, stylish chrome finishes and warm-coloured tiles come together to create a natural, relaxing ambience in which the family can luxuriate.
Restraint in the design process has become the home's strength. And a considered approach was required to ensure the design respected the existing qualities of the home while developing its new character. The final result is a custom interior that fulfils the clients' needs and leaves no area wanting. It seems old and new can co-exist.
The Brief
• Enhance the use of formal areas
• Upgrade bedrooms and bathrooms
• Modernise the home while retaining the Victorian character
Photography by Shannon McGrath 
Project particulars:
Designed by:
FMD Architects
Level 9, 180 Russell Street, Melbourne Vic 3000
03 9663 4677
fmd@fmdarchitects.com.au
www.fmdarchitects.com.au
Built by:
Latrobe Building Service P/L
03 8862 6622
Flooring:
Kitchen, living + dining: Existing boards polished throughout
Bathroom: Massa Imports Avantgarde series in Coco
Ensuite: Limestone tiling
Rug: Custom-designed by Tai Ping Carpets
Walls:
Kitchen, dining + living: Dulux Specifier
Sandy Day in half-strength
Bathroom: 600mm x 300mm Massa
Imports Avantgarde series in Coco
Glass panelling: Custom-coloured to match general wall colour to ensuite
Accent mosaics: Bisazza tiles from Alan Patrick
Sanitary fixtures + bathroom fittings:
Cabinetry: American Oak crown cut, twopack finish
Basin: Verso/Domino-Domino 100 from Roger Seller
Mixer: Zucchetti basin mixer
Showerhead: Roger Seller Waterslide-Quattro
Bath spout: Hansa Designo
Toilet: Globo
Ensuite basin: Duravit Architecundercounter-mounted basin
Ensuite mixer: Zucchetti basin mixer
Towel rail: Myhill heated towel rail fromRoger Seller
Lighting:
Pendant light fittings supplied by DeDeCe
Windows + external doors:
Existing repainted