Enhance your alfresco entertaining space with a state-of-the-art outdoor television.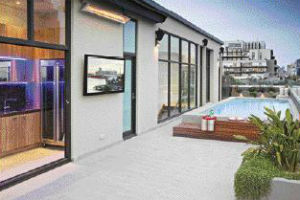 An outdoor television is fast becoming a lifestyle essential. Choose wisely and your new outdoor television will not only make alfresco entertaining more fun, it will contribute a sleek modern aspect to the design of your outdoor space.
In this contemporary four-storey townhouse located on the beach at Port Melbourne, the impressive outdoor living area (comprising an outdoor kitchen and bar, a teppanyaki grill and a fridge that can be closed behind bi-fold glass) is located on the fourth floor. The owners wanted to add a television but the exposed nature of the outdoor entertaining space and the modern styling of the house meant they needed to find a product that could cope with the changeable weather and complement the look of the home.
After doing their research they chose a 57-inch Iizel outdoor LCD television, distributed in Australia by Herma Technologies, which they had installed on the south-facing wall. With an IP56 rating, this television is capable of handling all of the weather extremes that Port Phillip Bay presents: heat, cold, rain, and humidity.
The Iizel television was integrated with outdoor speakers and both the speakers and television are controlled by a house-wide AMX smart home system, designed and installed by Howdoi.com.
According to Carlinea Williamson, Managing Director of Herma Technologies, outdoor televisions are riding the wave of popularity, and it's a trend that's only going to grow.
"Usually people are looking to extend the use of their outdoor kitchens and outdoor rooms but sometimes they might want to do something as simple as being able to watch the cricket by the pool in summer," she says.
As with any kind of technology, you need to buy the best quality you can afford, Carlinea advises. This means a television that offers excellent heat management and protection from moisture and dust (which is what the IP rating refers to), features a robust front panel (usually 3mm glass) and has well-designed cable management so that water can't enter at the connections — all of which Iizel outdoor televisions offer.
In addition, Iizel weatherproof televisions offer a built-in tuner and are available in six sizes: 32-inch, 42-inch, 47-inch, 52-inch, 57-inch and 70-inch.
Photography Patrick Redmond  
For more information visit www.herma.com.au