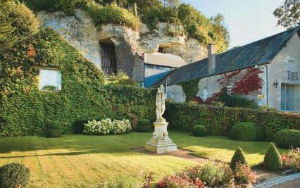 Combining formal flair with rustic charm, French-inspired gardens are always in vogue
By Donna MacPherson
At the moment, many country decorators seem to be in the midst of a love affair captivated by all things French, from furniture to toile fabric. We are drawing inspiration from the countryside (à la French provincial style) and the city (Paris apartment style) and now our obsession is spreading outdoors to the garden. But what exactly is a typical French garden? Is there such a thing? Surely they vary according to site, size and personal taste, just as any Aussie garden does?
Well, yes and no. While true French gardens range from the stupendous gardens of Versailles to the simple cottage potager, they all include large doses of French chic.

Fuse house and garden
One factor characteristic of all French gardens is their philosophy on combining house and garden, or chateau and jardin — neither space is created in isolation and one should always complement the other. In a French garden's simplest form it and the building are combined with lifestyle in the potager style — an area devoted to the growing of herbs, vegetables, fruits and nuts. The idea is to create a carefree and relaxed kitchen garden where one can stroll to collect the freshest of ingredients for the nightly meal. These informal gardens can be just a little wild with huge bronze fennels spilling over walkways, flowers mixed among the cabbages and aromatic herbs scattered here and there. Or they can borrow a little formality from the grander French gardens and have symmetrical vegetable plots surrounding a central urn or statue.
Another variation on the potager is le jardin de simples, or medieval medicinal herb garden. Leftover from a bygone era, these gardens can be found scattered throughout France in the grounds of the grand chateaus and simple farmhouses alike. Once the mainstay of the French garden and used daily to treat all manner of ailments, these gardens are often now only grown for effect. These provincial gardens were extremely accessible so they could be used often.
A touch of formality
The sumptuous gardens of chateaus have been created on a grander scale, with a formality unequalled in the gardening world. These gardens were, for the most part, intended to be accessed by only the nobility. They often included potagers with formal arrangements of herbs and vegetables; orchards of rare and espaliered fruit and nut trees gathered from around the globe; fountains and pools; expanses of lawns and even labyrinths.
Some of the truly grand chateaus even included le jardin paysager, or a garden for strolling. Such gardens were created for the aristocracy with long, winding pathways set amidst stunning manicured lawns and natural landscapes such as woodlands. The aim was to allow the wealthy to believe they were in the countryside while within a short carriage ride of Paris.
Combining the elements
Ok, so how does one draw on these elements to create a French-inspired garden in Australia? Well, just as in home decorating, the secret is in the details. You will need to be realistic and work within your garden's scale and budget, but a little French style can be incorporated into even the smallest of city blocks.
First, decide whether you are aiming for an opulent, formal French-inspired look or more the garden of a French country farmhouse. Either way, devote appropriate areas of ground to certain purposes. Locate your potager as close as possible to the kitchen and blend cheery coloured flowers with herbs and the vegetables you use most.
Devote a grand symmetrical design to the front of your home, incorporating a fountain or urn on a plinth as a central point of focus. If you have a two-storey home, you might like to try your hand at a knot garden or small labyrinth, as these are best viewed from on high. These highly symmetrical and formal garden elements, so loved by the aristocracy, are very high-maintenance, which is why the kings of France had a team of gardeners to maintain the gardens of Versailles.
Create a peaceful area
On a more modest scale, for those without gardening staff, a quick French fix is to incorporate a quiet area of repose into one's garden. The French call such an area le jardin de meditation and it needs to be no more than a quiet spot with a lovely outdoor setting, offset by soothing herbs such as lavender and sage.
Like the English, the French were very fond of the concept of a secret place in the garden and so a walled area or section divided by hedges would be a nice inclusion. Other musthave ingredients include some kind of fountain or statuary in a formal setting, or a trough or peasant barrow in a farmhouse garden. You might even like to include a touch of French whimsy in the form of a fleur-de-lis to signal your affection for the gardens of France to all who enter.
Incorporating some stone in the garden is a wonderful way to get the look, with a stone wall or pathway instantly adding age and ambience. Above all, your garden should entice you to spend time outdoors, whether your home is a chateau or a farmhouse. So set to it and bring a little "ooh la la" to your garden.