Contemporary or traditional, small inner-city courtyard or large country estate — multi-award-winning A Total Concept Landscape Architects & Swimming Pool Designers can help with any design project anywhere in Australia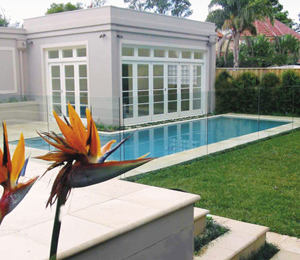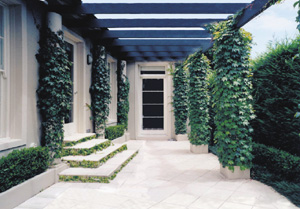 In this instance, they located an elevated paved entertaining area with barbecue facilities immediately to the rear of the home which is visually linked by broad steps leading down to a formal lawn, swimming pool and pool cabana, all designed in a simple, formal style that complements the residence.
"The cabana has been developed from an old horse stable and opens immediately onto the stylish geometric swimming pool and adjacent large blond reconstituted stone entertaining area," explains A Total Concept's landscape architect, John Storch. "It holds all the features needed for entertaining, including a kitchen, bathroom facilities, a day bed and television. It is a wonderful place to socialise or sit and supervise the children, or it can double as a guest room."
The swimming pool has been designed with a deep middle and two shallow ends (for safety purposes) and the entire pool can be heated to spa-like temperatures. For relaxation or entertaining, the pool incorporates submerged seating bays adjacent to the steps with spa jets and blowers.
"This beautiful formal swimming pool has translucent turquoise glass tiles that cause the water to shimmer. From the elevated terrace adjacent to the house, the stunning views towards the swimming pool are maximised at night with numerous pool and garden lights which add life and sparkle," says John.
The swimming pool and cabana are set within landscaped gardens boasting an intentionally simple palette of glossy-leafed hedging plants that do not detract from the main features. To ensure the plants' viability, A Total Concept incorporated  composting, heavy mulching and a water-wise, fully automatic drip irrigation system linked to large water storage tanks.
The end result is a simple flowing design which visually unifies the overall project and adds immeasurable value to the property.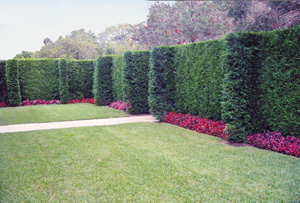 For more information