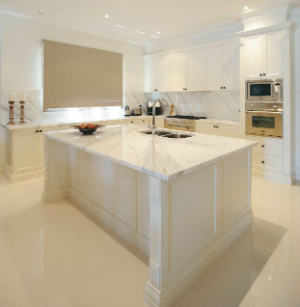 In Bundoora, Melbourne, the owners of a new home wanted each room to take on a French provincial style. To inspire this classic finish in the kitchen, bathroom, laundry and wardrobe, the specialist in custom-made cabinetry, Sussex Designer Kitchens, was assigned the task. In keeping with this theme, china white cabinetry and white Calcutta marble were incorporated into the kitchen's sleek design. Following a seamless integration approach, the stainless-steel appliances such as the fridge, dishwasher, oven and microwave were built in to support a clutter-free environment.
The island bench in the middle of the kitchen remains the central element. With a sink and storage units built in, it doubles in function, offering plenty of preparation space as well. A pantry is found on the side of the kitchen so every space in the chef's corner was utilised.Clean lines and white cabinetry dominate this space to fit in with the owner's clutter-free request and simplistic style. The rich stone benchtop adds contrast to the otherwise minimal kitchen. For the owner, it was important to bring the outside in and vice versa. To seamlessly connect the two, Sussex Designer Kitchens planned a kitchen on opposite sides of the wall. The main chef's corner inside creatively reflects the outdoor entertaining area's kitchen, with the major difference in the outdoor area being its finishes.
Stainless-steel appliances such as the barbecue and rangehood were effortlessly worked into the outdoor design. In the children's bathroom, two vanities on opposite sides of the room give a depth of space. The bath is the central element, standing between these two vanities. A clutter-free approach was implemented in all of the bathrooms and the powder room, which includes an oversized basin and shower. The end result: an immaculate finish that is enhanced by its French provincial twist. The laundry was not a traditional space. Finished in china white and white Calcutta marble, no expense was spared in this room. In keeping with the clean look, stackable dryers allow more room to move. Sussex Designer Kitchens also transformed the downstairs theatre room with an adjoining bar. Embracing a traditional, warm feel with its timber finish, a brown benchtop further enhances the look of the bar. It's clear to see that experience has played a part in this brilliant result. Sussex Designer Kitchens has not only created functional areas, but spaces that can now be included in the lifestyle of the client.
Sussex Designer Kitc hens 198 Sussex Street, Coburg Vic 3058 | Tel 03 9354 1919 | Fax 03 9354 0619 | Mobile 0418 535 190 | Photography Andrew Lecky