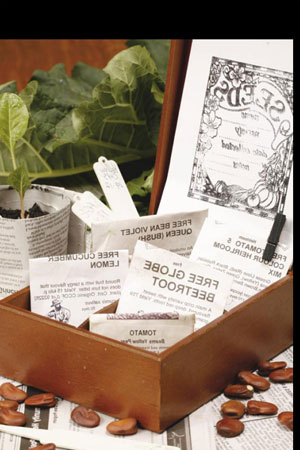 "A seed is a message from the past and a promise for the future." (Jerry Coleby-Williams)
Having grown up watching my grandmother save seed from tomatoes, pumpkins, cucumber and other vegetables,
it came as somewhat of a surprise to me to find that not everyone knows about, or practices "seed saving". Perhaps it is because I had seen the pride on her face when she handed over precious seed to fellow gardening friends that I, too, enjoy being able to share seed with friends. Without a doubt, however, the main reason I save seed is so my husband and I can grow non-hybrid vegetables for our extended family.
Anyone who has tasted a tomato, strawberry or carrot from their own garden will understand instantly what I am getting at. It's all about the taste. Supermarket-purchased vegetables are grown for their uniform, blemish-free, tough-skinned characteristics much more than for their taste — and that is not for me.
And what of the nutritional value of these "artificial tasting" varieties? I once read that thanks to the hybridisation of seed and commercial fruit and vegetable growing that the saying "an apple a day keeps the doctor away" should really be updated to "nine apples a day keeps the doctor away". For me seed saving is an integral and natural part of the growing cycle. It's easy, economical and fun, so let me tell you how to get started with your own seed saving.
There really is no special equipment needed. You simply start with open-pollinated rather than commercial/hybrid seeds or plants. You plant one or two extras and you wait. The important thing to remember is that when you are harvesting your crop you must leave some fruit/plants to set seed. If you pick or harvest all that you grow there will be nothing left to form seeds for next year. For greatest success, you need to be disciplined enough to forgo the best possible examples so you get the strongest healthiest seed for next year.
The hardest part of the entire exercise is that you have to put up with a little untidiness in the vegie patch. Plants that are going to seed are generally not the most tidy-looking examples for the garden but sometimes they offer attractive flowers that brighten the patch as seeds form. The onion families, for example, put up quite attractive and showy flowers in rich mauves, pinks and purples that will eventually give seed.
Saving our own produce for seed decreases the likelihood of varieties disappearing and adds to the genetic diversity of vegetables for future generations. As concerns grow over commercial hybrid seeds leading to less-hardy and more vulnerable plants, and the implications of genetically modified seed are not yet fully known, the onus of preserving heirloom and untainted seed falls to the individual and small but dedicated groups of seed savers.
For the home gardener an added benefit in seed saving is the low cost of supplying your family with vegetables. If you efficiently save seed your only expense will be in maintaining the health and vigour of your soil and any additional water bills. You will save on petrol used in trips to the nursery and on the cost of purchasing commercial seeds. Over the lifetime of your vegie patch, such savings can be substantial.
If space in your garden is limited, it may be worth joining forces with other keen gardeners and coming up with an arrangement where you each save seed from a certain vegetable and then split up the seed. This will mean you can have some species going to seed while allowing space to grow new plants, rather than having plants from every variety you grow going to seed and clogging up your entire vegie patch.
On a wider scale, seed saving networks exist around Australia and overseas and provide great resources for seed exchange and information on growing or harvesting produce. Visit www.seedsavers.net or www.seedsave.org for more information.
There is an advantage to using seed harvested locally, though, as they will be used to your climate and tend to have a more successful germination rate.
If you have never saved seed it is important to know a couple more steps. As a rule of thumb, dry seed pods result in dry seed that needs to just be captured and set aside while wet seeds, like those from fruit such as tomatoes, need to be washed through a strainer or sieve to remove any "flesh".
It is also vital that you allow harvested seed to dry out completely before carefully labelling and storing it in a dark, cool, dry place. Storing seed that is even slightly damp can result in moulds and fungus, which will seriously affect the seed's ability to grow.
Should you still be unconvinced about the benefits of seed saving and whether or not it is for you, just find someone who grows heirloom tomatoes and taste-test them against store-bought or hybrid varieties. After all the proof, as they say, is in the eating.
Seed saved for generations
Of course, not all seed saved has to be from vegetables. Flowering plants can also be saved for future generations through seed saving. Last year I was lucky enough to be given some sweet pea seeds with an amazing history.
According to a newspaper article from the 1950s and previous correspondence from a Miss Busby of Bowral, NSW the seed originally came out from England in 1823 with the lady's great grandfather, John Busby, who was a civil engineer to the colony, and his wife, who was a keen gardener. Mrs Busby had included some "Painted Lady" sweet pea seeds in her luggage before setting sail to the colony and some five generations later the seed had been saved and kept pure by her descendants. Considering it is now another 50 years on, I guess it has passed through several more generations of hands before coming to me.
I planted my seeds as instructed, well away from other sweet peas to ensure the strain did not become mixed, and true to their promise the soft pink flowers were disease-free with a very strong perfume. As I was gifted the seeds by a friend I am not sure if they are still being saved by Busby descendants today, but thanks to seeds being passed on to others these heirloom and historic sweet peas now known as the "Busby Sweet Peas" will be around for future Australians to enjoy.