Saniflo's Sanivite is a state-of-the-art and sophisticated solution to niggly kitchen plumbing challenges that arise from inconvenient locations.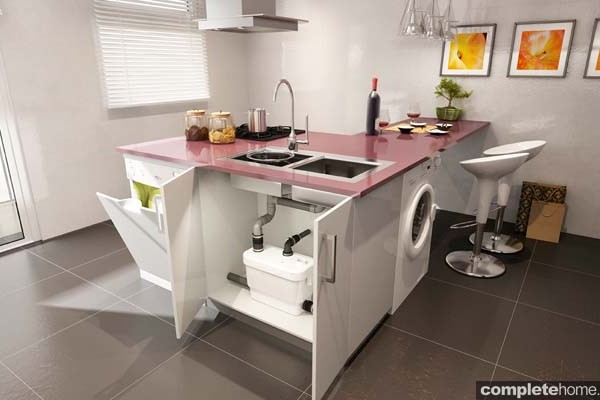 The kitchen is the cornerstone of many home designs — and not just in the main living area of the home. Amazing kitchens are now being built in alfresco areas, granny flats and guest suites. However, plumbing challenges can often get in the way of builders or renovators achieving their dream design outcome.
You may have been told that your dream kitchen is too far from the plumbing mains. Perhaps you've planned a kitchen that's below the level of the mains? Saniflo has a way for you to achieve the outcome you really want — without spending the kids' inheritance.
Saniflo Sanivite is a sophisticated, state-of-the art plumbing solution that allows you to position your brand new kitchen in locations too hard or expensive to plumb using traditional techniques. Sanivite is a quiet, state-of-the-art, concealable pump system that can lift waste water up to 5m in height or up to 50m horizontally — easily reaching your nearest plumbing mains. And because it enables the use of small diameter uPVC waste pipes (25mm), it minimises the amount of disruption to existing structures.
It brings your dream of an island kitchen, kitchenette, alfresco or outdoor kitchen or a basement kitchen into design and cost reality. Simply put, the location of your kitchen is now limited only by your imagination.
Sanivite is reliable and quiet and can be easily hidden away under the sink (or in any other kitchen cabinet). Sanivite will accept kitchen and dishwasher waste, comes with a two-year warranty and can operate with water temperatures of up to 60 degrees.
Best of all, the time and money you save can be invested in buying the luxury kitchen appliances you've always dreamed of. So no matter where you plan to put your kitchen, remember, nothing is impossible with Saniflo Sanivite.
FOR MORE INFORMATION
Saniflo
Unit 9–10, 25 Gibbes St, Chatswood NSW
Phone 1300 554 779
Website saniflo.com.au
"Limitless Creativity" from Kitchens & Bathrooms Quarterly magazine Vol.20 No.3