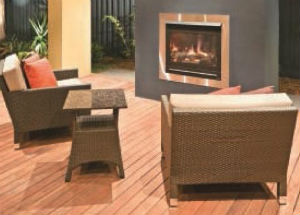 Wicker furniture will complement any outdoor room and is the perfect choice for both style and comfort
With outdoor areas today being designed as rooms in their own right, it's becoming increasingly important to furnish these spaces as we would the interior of our homes. Furniture once relegated to the indoors, such as dining tables and chairs, sofas, beanbags and stools, is now finding a new home outside. To get the most out of your outdoor area, you should aim to make it as comfortable and as inviting as the rooms inside your house.
As the concept of the outdoor room grows in popularity, so too does the range and quality of furniture designed specifically for these outdoor spaces. Outdoor rooms are being designed to be lived in all year-round, no matter what the season. And, like the rooms and furnishings inside our homes, it is expected that our outdoor spaces will deliver the same degree of comfort and style.
When it comes to furniture for our outdoor rooms, we are spoilt for choice. Apart from ensuring the furniture is durable and sturdy enough to withstand the elements, we are free to pick and choose any design, style and colour we like. And with outdoor rooms essentially an extension of our homes, furnishing them like we do the inside will further blur the boundary between indoors and out.
Whether you're entertaining or relaxing in your outdoor room, your level of comfort will determine how much you enjoy the experience. To make the most of our outdoor spaces, it's important we furnish them with comfort in mind. Setting the mood for your outdoor room is easy with the right lighting, accessories and, of course, furniture.
One of the latest trends in outdoor furniture at the moment is wicker. Not only comfortable and stylish, wicker furniture is also very versatile, complementing any outdoor space. Whether it's a dining table and chairs, lounge or sun bed, wicker offers a multitude of options for today's outdoor rooms.
Wicker is not a material itself; the word actually refers to furniture that is woven. A variety of materials can be woven into wicker including rattan, cane, bamboo, reed, willow and fibreglass resin. Strong and versatile, wicker can be used for all kinds of furniture — both indoors and out.
One of the simplest ways to ensure a cohesive look between indoor and outdoor living spaces is to use outdoor furniture and accessories that match or complement your interior furnishings. The versatility of wicker makes it a popular choice when it comes to furnishing outdoor spaces and creating a seamless transition between in and out.
From tables and chairs, coffee tables and recliners to bar stools, ottomans and armchairs, there's a multitude of furniture pieces available in wicker that will suit your outdoor room.
The latest wicker trend is woven synthetic fibre that has been fashioned into curved, moulded forms designed to fit comfortably to your body. This type of furniture is very contemporary and is perfect for a modern outdoor room. Adding a touch of class to the outdoors, curved and moulded pieces of furniture don't require any accessories and are an easy option when it comes to decking out your outdoor space.
Wicker comes in a plethora of colours, making it easy to complement the style and theme of any outdoor room. This style of furniture can also be accessorised with cushions and, depending on the colour of the wicker, you could opt for bright cushions for a stark contrast or go for similar colour tones for a stylish consistency.
Wicker is also very comfortable without cushions, so you don't need to accessorise your furniture pieces if you don't want to. Wicker is also lightweight, so you can easily move it around and change the look of your outdoor room as often as you like. Wicker is also a good outdoor option because it is never too hot or too cold, so you'll always be comfortable.
On a downside, wicker can stay wet for a long time after rain, so it's best to ensure your wicker furniture is well protected from the elements. Having the appropriate shade structure in place should do the trick. Natural wicker can also be damaged by the elements and, like rattan, is best reserved for use undercover. You can, however, get natural wicker that is coated with a weather-resistant finish, enabling greater versatility. Synthetic wicker furniture comprises strips of resin, usually wrapped around aluminium frames.
As with all furniture, you get what you pay for. Cheaper wicker will often break as a result of sun damage after a year or two. It's best to invest in a more durable wicker that will reward you for many years to come. Opt for a very fine weave and a long warranty.
No matter what type of outdoor room you have — be it a balcony or courtyard retreat, a poolside room or a lush area of lawn — making your outdoor area comfortable is key to getting the most out of the space. And with myriad options when it comes to wicker furniture, you'll be able to relax outdoors in comfort and style all year round.
CLEANING TIP
To keep wicker clean, dust it regularly with a soft cloth or brush. You can also vacuum it using the brush attachment. If it gets quite dirty, use a damp cloth to wipe it down.