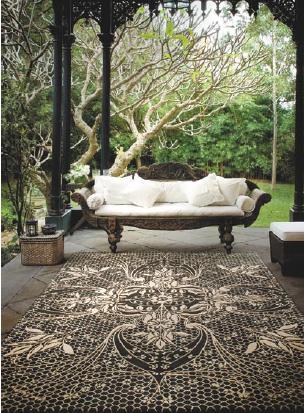 Seeing a gap in the market for the manufacture of premiumquality, hand-made rugs that are produced locally, Yosi Tal and his father Eli saw an opportunity to successfully build a quality rug design and manufacturing company.
As managing director of Designer Rugs and with 20 years of experience in the industry under his belt, Yosi's wealth of knowledge and understanding of the constantly changing direction of the industry is a true asset, possessing a true passion and perceptiveness for colour, style and textures. "I love all diff erent design styles; they have their own relevance and place in today's interiors. It really does depend on the interior application and what the designer is trying to achieve," Yosi explains. Selected designs in the Designer Rugs collections comply with the 'green star' rating meaning the rugs have been tested for volatile organic compounds (VOCs) and that they are low-VOC-emitting products. Rugs have the power to transform an insipid space into an uplifting and stylish living area or office.
Being on top of the trends is all part ofbeing head honcho of one of Australia's leading rug manufacturers and Yosi takes it upon himself to ensure he has a very good understanding of the trends currently hitting the rug market. Yellows, rusts, mute and muddy tones and aubergine are the leading colours of today, while a fl ashback to the '70s through texture is very popular as well. However, ask Yosi which trends he likes to follow and he will tell you his team help create, not chase, trends. "We don't follow trends; we like to think that we help to create trends by working with talented designers from diff erent disciplines, including our in-house design team. When looking at rugs there are two schools of thought: create an eye-catching statement piece, or have the rug complement its surroundings by pulling furniture together. I prefer to make a statement."
For the past 21 years, Designer Rugs has celebrated Australian design by collaborating with iconic artists such as Alun Leach Jones, Linda Jackson, Akira Isogawa, Annie Georgeson and Academy Award-winning designer Catherine Martin. This exposure to such highstanding creative luminaries is inspiring to the team and helps continue the production of original, quality rugs. "We have also worked closely with designers and architects on award-winning and impressive global installations, including Australian embassies, Parliament House, Qantas businessclass lounges, W Hotel in Florida, Tommy Hilfi ger Amsterdam, Rio Tinto, Google and Optus headquarters to name a few," relates Yosi. Specialising in custom-made rugs and carpets to suit any interior requirements, Designer Rugs creates contemporary and traditional handtufted and hand-knotted ranges in New Zealand wool, viscose and silks such as Saff ron, Bella Vista Antique Wash, Textures and Silky Stripes. Visit www.designerrugs.com.au for more information.