All the music you want, all over your house using smart, wireless technology.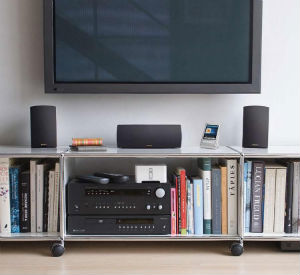 Sonos gives music lovers instant access to a world of music no matter where it comes from; your computer, the internet or both. Simply flick to browse, type to search, and touch to play.
Your music library: Liberate the music on your computer, including iTunes®, and play it all over.
Free internet radio: Sonos comes with more than 25,000 radio stations, shows and podcasts.
Music services: Enjoy millions of songs and stations streaming direct from the internet to the rooms of your choice.
Pick a room. Pick a song. Touch play
With the Sonos® Multi-Room Music System you can add music to every part of your life and every room in your house. Wirelessly, effortlessly, flawlessly. And with the touch of a finger, you can play the same song in every room or choose different songs for different rooms. It's up to you. All you need is an internet connection and a router to get started. Then set up your system without wires or hassles, pick a room, pick a song and touch play!
Playback Systems 
03 9874 0800
www.playback.com.au