The merits of Abbotsford as a residential suburb long escaped notice, but the quaint pocket superbly located on the Yarra River in Melbourne's inner east, a mere 4km from the CBD, has come of age.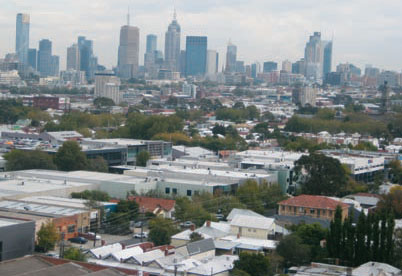 If you're not exactly sure of where Abbotsford is, keep your eye out for Melbourne icons; the heritage-listed neon Skipping Girl sign on Victoria Street, and Carlton and United Breweries. 
Historically, much of the natural bushland along the Yarra River's edge of Abbotsford remained intact until it was subdivided as an industrial estate in the late 1970s. Originally home to many Irish factory workers, Melbourne's migration influx during the 1980s saw the suburb take on a dynamic multi-cultural demographic. Today, Abbotsford is renowned as being home to Melbourne's largest Vietnamese community and defines Victoria Street as a dining and speciality food market experience. 
Abbotsford is neighbour to Fitzroy and Collingwood in the west, Richmond to the south, Clifton Hill to the north and separated from Kew in the east by the Yarra River and divine Yarra Bend and Studley Park green belt. 
According to Stuart Robinson, director of Harcourts in Richmond, who has been selling real estate in the Abbotsford, Boroondara and Yarra marketplace for the last decade, Abbotsford has always been a "solid sleeper but has really come on in leaps and bounds". 
Domain Home Price Guide reported Abbotsford's median house price to the year ending December 2008 at $762,500 and for units $570,000. A trend observed by Stuart that has become more pronounced in the last 12-18 months has been flow-on effect from buyers "priced out" of the perpetually sought-after Richmond market. Gentrification of Abbotsford has taken hold as young buyers have bought in, their friends have visited, admired and "followed suit", Stuart says. 
While Abbotsford shares many of Richmond's benefits in terms of location, with excellent access to tram, train, the Eastern Freeway and eclectic shopping precincts in every direction, "it has offered first-home buyers in particular greater price affordability relative to many other inner-city suburbs." 
As is the case across the board in property markets "demand for stock in the first-home buyer bracket has been strong due to the government grant incentives," he says. 
Former factories are taking on a new lease on life now, offering sought-after warehouse living close to the Yarra bank as the locale is shunning its industrial past and emanating an increasingly community feel. 
Former monastery site, the Abbotsford Convent, has made great progress in its renaissance as a vibrant art, cultural and community precinct. While open for broader population enjoyment seven days a week from early morning through to midnight, the sprawling convent gardens are available, literally, as an extended backyard for the locals. 
And despite the name, signs pointing to the Collingwood Children's Farm will lead you to another Abbotsford feature next door to the convent, at the foot of St Heliers Street. Here, rambling paddocks, gardens, orchards, rustic buildings and farm animals on the banks of the Yarra River have been providing country experiences for city people since 1979. Both precincts host a range of terrific community special events in addition to regular produce and specialty markets.
In comparison to Richmond, Abbotsford "is more condensed" in terms of homes and block size but endowed with "a good mix of property", says Stuart. Spread over a larger geographical area, Richmond has a more diverse mix of housing typologies, from tiny workers' cottages through to grand homes and consequently a larger price range, says Stuart. There, entry level equates to a two-bedroom apartment priced in the early 400s while at the top end, Richmond Hill pushes up to 2m.
For significantly less, Abbotsford avails one-two-bedroom apartments in the early 300s and ranges to up to $800,000.
Likewise, Collingwood, which shares in the amenity benefits of the location, has enjoyed flow-on demand from property hunters who can't afford or can't find an abode in the Abbotsford market, he says.

Guide to Abbotsford
The Abbotsford Convent: Amid early-19th-century architecture and landscape design, there are galleries, studios, a health and wellbeing centre, and the delights of several niche cafes, restaurants, bars and bread baked on site — that is, in a word, simply divine. 

Art, designer furniture and decorative object shops: diagonally opposite each other on Johnston Street, Abbotsford, is Chapman & Bailey, a specialist in fine-art stretchers and bespoke furniture, and Mondo Trasho, which sources delectable-quality original vintage furniture, objects and applied arts from around the globe. 

Boating and picnic spot favourite of Melburnians, Studley Park is close by on the opposite side of the Yarra. 

Collingwood Children's Farm provides visitors with the opportunity to milk a cow, collect eggs from the chooks, shear sheep and grow organic fruit and vegetables. The concept heralded from the idea of providing children living in an urban environment often without backyards, the chance to connect with animals and the outdoors. 

Yarra Bend Public Golf Course and Studley Park Golf Course are two of many recreational reserves in the enormous green belt on Abbotsford's doorstep. 

Cycling and walking paths meander along the banks of the Yarra River for kilometres. 
Footnote
* Comments are current as of April 20, 2009.
Figures source: Domain Home Price Guide current to end 2008
www.domainhomepriceguide.com.au