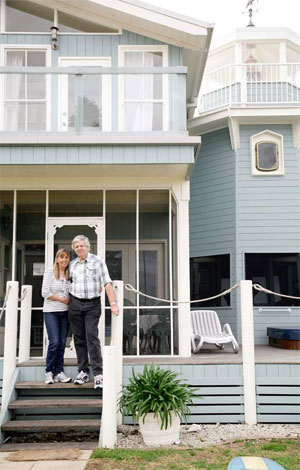 When Queanbeyan couple Lynne and Brian Kimmings stumbled across a small fibro fishing cottage in the quiet hamlet of Long Beach, it was one of life's happy accidents — one which was to become a labour of love. "We hadn't lived this close to the ocean before, but like most people we always dreamed of a beachside home" says Lynne.
Originally built as one of a pair by two brothers back in 1954, the cottage was described as a knockdown project. But for Lynne it was love at first site and she was determined to keep it intact. That was in 2002 and extensive works have since been completed to bring The Captain's Cottage to its current state.
The couple started by replacing the fibro walls and ripping up the carpets to reveal the beautiful original hardwood floors. After converting one of the old bedrooms into a bathroom, the larger, more modern spaces were added at the rear, incorporating the couple's own style while being careful to retain as much of the traditional feel as possible. This was achieved by using secondhand sash windows and packing case timbers for the floorboards.
Another of life's little coincidences presented itself when Lynne and Brian, quite by accident, discovered some old leadlight windows in an antiques shop in Bungendore that exactly matched those in the original cottage that they learned had been salvaged from landfill in Sydney and brought down for the original construction.
The couple's love of traditional beach architecture and old nautical antiques is immediately apparent. "We have always loved lighthouses and their role in Australia's heritage," says Brian. They began collecting nautical equipment and came across some lighthouse and navigational light aids. In 2006, they purchased a Chance Brothers acetylene light, which Brian informs is regarded as the Rolls-Royce of lighthouse light mechanisms. The purchase inspired Lynne to consider building a lighthouse next to the cottage. And so began the next phase of their nautical adventure.
Lynne and Brian drew up all the architectural designs and plans themselves and were eventually granted permission by the local council to erect their lighthouse. The Chance Brothers light now sits proudly in place atop the new structure, keeping vigil over the serene waters of Batemans Bay where dolphins play and whales frequently visit during their bi-annual migration. Brian says, "The light has been converted to electric power, but we are still to complete the construction of a rotation mechanism that will create a unique signal like a real lighthouse and aid passing walkers on the beach." Shutters will also need to be put on the light so the signal doesn't confuse passing ships.
Continuing with the nautical theme, Lynne used the ocean as her jumping off point, painting the exterior Dulux Blue Whale, while the interior is wonderfully fresh in Dulux White Opal. The Captain's Cabin is Lynne's favourite room, as it provides the serenity of the original cottage and was the first room the couple tackled. The open-plan living area has a warm, cosy feel with views across the lawn to rippling waves and the distant Tollgate Islands Nature Reserve. Standing some 50 metres from the beach, the ocean is visible from all living spaces, creating an ever-changing backdrop. But it is upstairs, in the main bedroom, where the couple's sense of style and humour really come to the fore. The loft-style room is home to some of Lynne and Brian's most treasured artefacts with a "bridge" incorporating an authentic ship's wheel plus a genuine brass compass housing and ship's throttle that stands watch over the bay. It's here that a sense of whimsy has been allowed to take its place with the bathroom amenities housed in replica Brighton beach huts — No. 46 is the shower room and 47 is for ablutions — a hark back to both Brian's English roots and Lynne's Australian lineage. This room also gives access to the light room. Through a lovely bunk room with delightful views of the ocean offered by a porthole window and up a further ladder is the light in all its gleaming glory, adding a sense of permanency and solidity to the building.
Lynne offers some advice for decorating. "Be creative, but don't rush in with all your ideas," she says. "Stick to your theme in a manner that complements the surroundings. Basically, we have tried to create a cottage that we could be very comfy in and one that reminded us of the lovely older buildings of the past with the charm and nooks and crannies that modern houses have somehow lost along the way."
The cottage is currently operated as a short-term holiday letting and for use by family and friends. "It has turned out so well, in a style that everyone loves, that we wanted to share it with others," explains Lynne.
Lynne and Brian are rightly proud of what they have achieved at The Captain's Cottage, but are in no mood to rest on their laurels. While taking their time and maintaining a "steady as she goes" attitude, their ongoing plans will see them continuing to add new finds and favourites. They already have a number of pieces that, when installed, will enhance the ambience. These include an authentic brass and copper ship's masthead and a number of brass lights. They also have plans to mount an old leather-bound telescope atop the binnacle in the bridge, reminiscent of Captain Gregg in the film The Ghost and Mrs. Muir. Perhaps even more importantly, there is a set of brass speaking tubes that will connect to the galley so Brian can order a cup of tea while steering the ship.