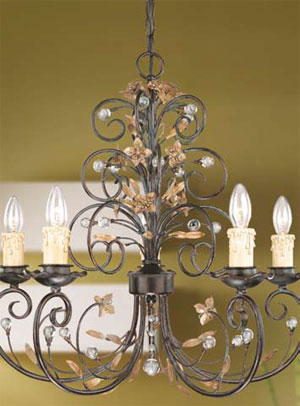 When decorating or renovating a home, there are so many things to consider — the choice of wall colour, the flooring, the door style, the curtains, the furniture… With all of these things to think about, it's no surprise that lighting is often overlooked.
Choose carefully
While you may not think to look up when you're decorating, other people will certainly notice your lighting. How often have you walked into a house and thought, "what ugly lights"? To avoid this, you can opt for the super-simple choice of downlights throughout the house or simply put bare bulbs in the ceiling. But just as bad as people noticing ugly lights is them not noticing the lights at all, or your lights being so discreet that they add nothing to your décor. When looking at lighting, remember that they can add style and ambience to a room and finish off the decorator touches below it. Consider is the style of the home or room. If you are renovating, look for lighting that is suited to the period your house was built in. If the décor is pretty and feminine, you may choose an elaborate chandelier. If it's a more relaxed, neutral style, a chandelier would look over-the-top and a simpler pendant may be a better choice.
Think about the materials you use, from timber to brass or chrome bases and from fabric to tin or glass shades. This will affect the finished look of the light and determine how well it works with your décor.
Consider the room
Different rooms have different needs. While it might be easy to put the same kind of light through an entire house, it needs a little more thought than this. Consider each room's lighting needs. Think about how much light you need over a kitchen bench, as opposed to a dining table. You might like to watch television in the near dark, but this would be unsuitable for reading or desk work. Don't overlook the usefulness of dimmer switches. Turning a light's intensity up or down is of great benefit and it means that the dining table could be used for crafts and romantic dinners. Also, don't forget about table and floor lamps — particularly if you're not in a position to change all the ceiling lighting in your home. A well-placed lamp can provide both ambience and task lighting for reading or sewing.
The big picture
Lighting is far more than purely functional; the light fixtures you use can change the overall look of the room. They can take centre stage or become harmonious contributors to the room, be tailored to specific tasks and be used to create a special ambience. Remember that lighting is an important decorating decision and give it the consideration it deserves.