Synthetic-weave outdoor furniture offering unrivalled comfort and class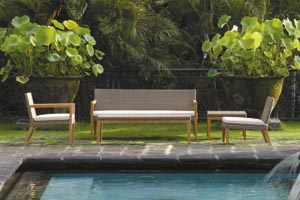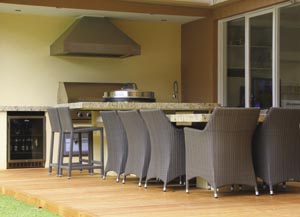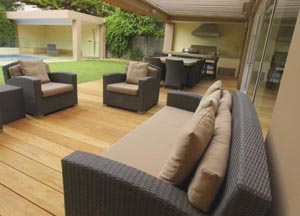 To satisfy the needs of discerning homeowners and demanding designers and retailers looking to delight their clients, Satara Outdoor Living has put together a diverse and constantly evolving collection. From Queensland resorts, casinos and airports to contemporary residential projects, such as those showcased here, Satara's outdoor furniture can be found in prestige projects Australia-wide.
For the stunning pool project pictured above, Satara's Trend modular sofa proved the perfect choice as the pieces can be ordered separately to create the ideal configuration. Complemented by a comfy chaise, the modular pieces not only fit snugly, they make supervising the kids in the pool a very pleasant proposition.
Between the house and pool there is an area of timber decking allocated for dining. For this space, the owners chose Satara's Trend table and comfortable Porto chairs. Like the modular sofa, the pieces are in Java Brown synthetic wicker teamed with Sand fabric.
For the modern outdoor room shown below, very specific pieces were required to meet the exacting standards of the owners, designers and builders. The goal was to match a variety of pieces — some for relaxing, some for dining and others for lounging — and Satara Outdoor Living was the only supplier able to meet the design demands. Arusha sofas and armchairs combined with Porto dining chairs, coffee table, bar stools and sun loungers – all in Irish Coffee-coloured synthetic wicker and Delux Sand and Sand storm fabrics – now grace the outdoor areas.
If you're a homeowner looking to furnish your outdoor space or a design professional searching for that perfect piece for a client, you can see the Satara Outdoor Living product range by visiting their website or stopping by their stand at Furnitex, to be held from July 15–18, 2010, at the Melbourne Exhibition Centre. Or, if you prefer, call Satara Outdoor Living to find your nearest retailer or make an appointment to visit their showroom in the Melbourne suburb of Braeside.